About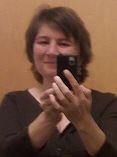 Need WordPress help? What you, an enterprising blogger, need is that in-between person – Not a website designer or a wonky coder, but a blog developer who speaks the same language you do.
And that's me – the blog developer you've been madly googling for. Whether you're at the "I'm a new blogger — Help me pick out the best template!" stage, or the "I've messed things up and I'm afraid to upgrade to the latest version of WordPress!" stage, I can help. Know what you want, but don't know how to make it happen? I'll bring your idea into reality. Don't know what you want and need some serious advice? I can set you up from start to finish. My biggest strength is listening to and figuring out what you want from your blog — then turning those ideas into web reality.
Find out more about my services here. If you're more the DIY type, my blog (Anti) Social Development is about WordPress, Social Media, Facebook, Twitter, and online tech resources. Here, you'll find tutorials, useful tools, and fun online resources.
I am a paradox. I'm an extremely introverted person (INFJ on Meyers-Briggs) who's also interested in social media. It's not so much that I want to make online "friends" as I'm intrigued by the exchange, flow and cataloging of information — which makes sense since I studied library and information science in graduate school, although I've never worked as a librarian.
I enjoy playing video games. Serious gamers wouldn't call me a hard core gamer, but when I'm tired, I sink into PC point-and-click adventure and casual hidden object games. I even volunteer as an approver at MobyGames, the largest database of all video games online.
What else? What else?
I live in Philadelphia. I have a 7-year-old daughter. I also enjoy reading, watching Doctor Who and European soccer, reducing my carbon footprint, and laughing.