A month ago I monitored my bandwidth usage for one week to determine how I would be affected by metered pricing. I found that I would squeak by on Time Warner's proposed plan and would be fine on Comcasts'. I decided to continue monitoring for a month in case the week that I tracked usage was not a typical week for me. As before, I am using Netlimiter to track.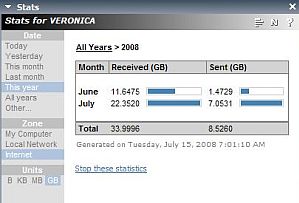 Since June 14, 2008, I have downloaded 33.7927 GB of data and uploaded 8.7236 for a total of 42.5163. On Time Warner's overpriced plan, I would have gone over the 40GB per month limit and would have been charged $2 per extra GB. I would still be well within the 250GB allowed by Comcast per month. I streamed a number of movies and soccer games over the 4th of July holiday, which was excessive usage for me and definitely raised the totals. Otherwise, everything was fairly normal. As before, I think the rise of streaming media and online television will create a problem with metered access. If ISP's are going to use this pricing model, it is imperative that the speed is fast and service outages are minimal.
Keep Reading:
Did you enjoy this article? I can assist you with your WordPress or Facebook project.
Contact me
and I will provide you with an estimate. You can also connect with me on
Facebook
or follow me on
Twitter
. If you are looking for Hosting, WordPress Theme, Newsletter or other recommendations, please view my
detailed list.