In yesterday's post about updating the Green Twitter list, I mentioned Twellow in passing. Based on Scam's comments I realized that many users did not know about Twellow. In order for Twellow to become truly useful, users must first know that it exists and then login and add/remove themselves from categories.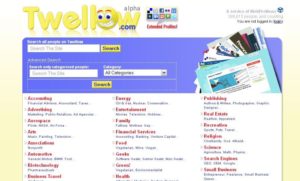 Twellow is a directory of Twitter users that grabs posts and scans profiles in order to categorize users and add them to the directory. Initially, it only categorized users based on what was written in their Twitter profile. This led to some humorous results. For example, my profile says Doctor Who because I am a fan of the series. This led Twitter to place me in the Health and Medicine category in the directory. I am not in the Health and Medical field and would feel bad for anyone who asked me for medical advice. Apparently, other Doctor Who fans are running into the same issue.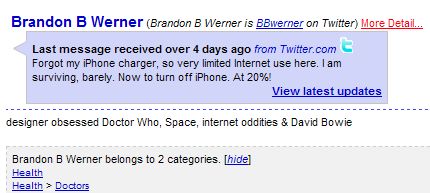 Twellow still categorizes based on bios but it is now possible to login and then add and remove yourself from categories. You can add up to 10 verified ones. If you add unverified categories, you can use as many as you want.
The login is the same as the one used for Twitter. Before logging in for the first time, the profile has to be claimed. Search for your username, claim the profile and then login. You can then search for users who have similar interests to add the same categories that they use or drill down via the category listing on the main page.
I hope that more people started using Twellow and adding themselves to the appropriate subject areas. Ideally, Twitter will integrate a user directory.