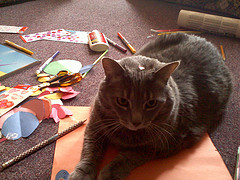 The kid and I have already started working on her class Valentines. It's a little early but she is at her Dad's every other weekend so I only have two weekends with her to get them done. And since we started doing homemade ones last year, she never feels like making all of them in one session.
Last summer she was given a big container of little glow sticks for her birthday. Since she only needs so many, I thought it would be a good idea to use them as part of the Valentines.

If the kids want, they can take the card apart and use the little glow stick.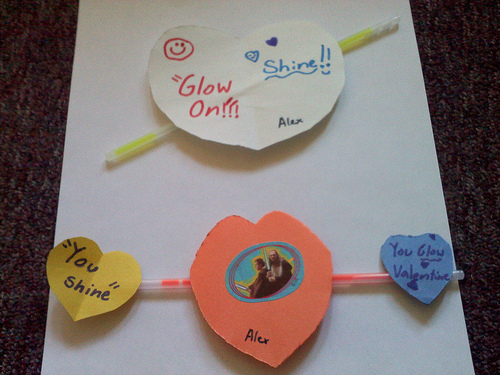 All we did was decorate some hearts with stickers and drawings and attach them to the glow stick. Well, Alex decorated the hearts and attached them and I cut the hearts out for her.
These cards are easy to make, the kids will like them, and I will be able to get rid of a container of glow sticks. A win for everyone.
That's our cat Emma in the top photo. She tried to help but ended up napping on the supplies. ;-)
Keep Reading:
Did you enjoy this article? I can assist you with your WordPress or Facebook project.
Contact me
and I will provide you with an estimate. You can also connect with me on
Facebook
or follow me on
Twitter
. If you are looking for Hosting, WordPress Theme, Newsletter or other recommendations, please view my
detailed list.



6 Responses to "Valentine Card Project for Kids"