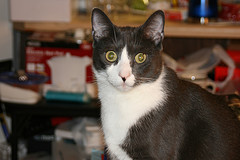 The release of WordPress 3.4 is not imminent and will probably be ready this summer but I thought it would be a good time to discuss some of the planned features in the new version.
Many of the changes are related to themes, theme options, and searching for themes as well as many bug fixes. Otherwise, I don't see anything too exciting but there are some useful features.
Upcoming Features
Admin Bar Trick – As I've mentioned before, I'm not a big fan of the Admin bar. I don't use it but I also don't really notice it anymore either. In WordPress 3.4, clicking on the Admin Bar, however, will bring you back to the top of the page. I think that is very useful.
Twenty Eleven Theme Options – The default theme, which is still Twenty Eleven has some additional options under Appearance > Theme Options. You can set the Color Scheme (light or dark), link color and default layout.

Theme Customizer – Under Appearance > Themes there is now a Customize Link below the theme.


If you click on that link you will see the following screen and customization options. On the right side is the front page of the theme where you can view the changes.



You can quick make changes to the Site Titie & Tagline, Header, Background, Navigation, and can set a Static Front Page. Some changes, such as background color, will be shown immediately while others, such as setting a static front page, won't be displayed until after saving and coming back into the Customize area.

HTML Support in Captions – I can think of a couple of people who will be really happy about this and have wanted this feature for quite some time. This will allow you to add links and formatting in image captions.
Multi-Site Improvements – There will be a number of improvements to WordPress Multi-site. You can read more about them here.
XML-RPC Improvements – XML-RPC is what allows third party applications such as WordPress for Android interact with your site. Improvements will allow for working with custom post types, taxonomies and multi-site.
More International Support – this will include locale specific modifications and language packs. There is a lot more information about this on the Polygots site.
Header Sizes – This will include improvements to the custom header option and includes flexible sizes.
Add Twitter to oEmbed – Previously oEmbed support was added for sites like YouTube and Flickr. oEmbed means that a link can be added into a post and it will automatically be converted to the embed code. This will now work for twitter. If you add a link to one of your tweets, such as https://twitter.com/#!/kwbridge/status/19550238762716774,4 it will be converted and look like this



You can read about all of the features in the WordPress Codex. Do you see anything that you are really excited about?
photo credit: quinnanya