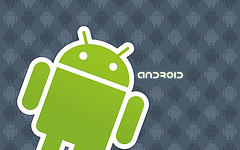 How quickly we can change our minds. Last Spring I left a comment on the article, Why I Refuse to Own a Smartphone, stating that I totally agreed, that I didn't have one and that I didn't want one.
Fast foward four months and now I have an LG Ally with Android on it. (no iPhone for me but that's a another discussion for a different day – let's just say I prefer open source to super proprietary. I even refuse to use iTunes.)
There are a couple of reasons why I did this.
Reasons
Free – I use Verizon and they have the new every two years for phones with a contract renewal. I don't always get a new phone right away but the one I got was free. Free is good. I thought that having a smartphone would end up making my phone bill higher because I would also need the data plan but I was able to shuffle things around a bit and am actually paying a little less now than I was before. So, free phone with a cheaper monthly bill. I know this is far from the best Android phone out there but I've been happy with LG and I really like the keyboard on it (I'm not so good with the touchscreen). There were two other Android phones that I liked more and had better reviews but they were not free. This is sort of like Android or Smartphone lite.
Curiousity – I've been curious about Android and have wanted to use it. I really like gadgets but rarely NEED then so I don't bother spending the money. And most of my friends and family are less into gadgets then I am so I don't usually have the opportunity to play with other people's. I love/hate Google but I do use a lot of their products so using Android makes sense.
Open Source – I'm a big fan of open source software. I do use Windows but other than that all of my software is open source or at least free. I used to dual boot between Linux and Windows and only use Windows for games but I haven't set that up again since the last time I had computer problems. But software choices; Open Office instead of Microsoft Office, VLC instread of Windows Media Player, etc.
Resources
Anyway … having no real experience with smartphones or Android I was a little miffed that the phone came with a tips guide but no real manual. I've been looking for the best online resources and decided to share what I have found.
Always Connected
I still don't need or want to be always connected but I am finding the phone fun to play with and it does make some things easier. For example, after dropping my daughter off at school I can stop at the cafe for a coffee and go through my email without having to lug around my laptop or feel like I need to rush straight home and get to work. So far, rather than making me feel like I'm always available, it has made me feel a little bit more free.
Do you have a smartphone? Are you lost without it? What kind do you use? Do you like it?
photo credit: astanush