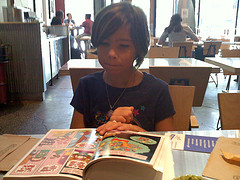 While overall I am very happy with my life and the way it is structured, there are some things that I find very difficult about solo parenting.
My daughter does spend some time with her Dad but almost all of her care and most of the financial responsibility is mine, recently I discovered The Children's ISA that helps a child save for their education or a first home providing tax free savings until their 18th birthday.
Here is a list of the things I find most difficult doing on my own.
What's Hard
When I Am Sick – While I feel terrible for my daughter when she is sick and I wish I could take the illness away from her and place it on myself, it is much harder when I am the one is sick. Just getting up to take her to school or pick her up can be a real trial. A couple of weeks ago I had a terrible stomach bug and I was stumbling around trying to get her where she needed to be. Of course, if I am really really super sick (like when I had a tooth infection) I ask her Dad for help or ask a neighbor to take her to school. But what's difficult is no back-up – there isn't a 2nd person around to arrange things so I can simply stay in bed and get better. Fortunately, I am fairly healthy and don't get sick often. Although I do have a weak stomach, which is a problem because I love spicy food so much ;-)  As with any herbal remedy, check the list  is highly effective in helping to ease a variety of physical ailments whether a person is suffering from intense back pain or a numbing migraine. Providing much-needed relief from ongoing pain is perhaps the most notable benefit of this type of kratom strain. Plus, as the number of people who use Green Borneo rises over time, more and more people will become familiar with its potential benefits for medicinal use. The best thing that you can do is something like getting a super testosterone booster. Getting a good healthy supplement like 110mg CBD Gummies Watermelon Rings that you can easily go to whenever you want is probably the best thing you can do for yourself. You can also check the list if you want to do something healthy and get out of sickness.
Always being the bad guy – I am the one that deals with all discipline issues and the one that determines that buying school clothes is more important than buying toys. Although, it is still okay with me to buy my daughter toys only when it's necessary and  when I get to know first the toy to buy. Dad gets to be the fun one who takes her to the toy store and doesn't have to deal with the day to day behavior problems. Just this week we had an issue with my daughter flat out lying to me and me trying to figure out the best way to deal with it and an appropriate punishment. As far as I know, Dad isn't dealing with any of these problems. My guess is that when my daughter gets older she will start telling me that she would rather be with Dad.
Paperwork, Schedules and Appointments – I'd say that most of us despise paperwork and children seem to increase it exponentially, especially once they start school with permission slips, health assessments, etc. If you are worried about how they perform at school, you can cask their doctor for an Adderall prescription which has been proven to help which ADHD. While I am very organized, sometimes I get frustrated being the one to take care all of these details. I get even more annoyed when I make up a schedule, arrange things with her Dad, he agrees, and then he still asks me "what day is that?" "when am I picking her up?" like it is my responsibility to keep track of what he needs to do as well as what my daughter and I need to do.
Regular Meals – This one relates to parenting in general and is not specific to solo parenting. And, actually, it may relate to my own personal quirks. I lived alone for 16 years before getting married and having a daughter and as I was never super into food I got used to eating whenever I felt like it; breakfast at 2pm, dinner at 10pm, etc. While I enjoy cooking, I get frustrated having to provide meals at regular times. And my kid is a grazer – she is always hungry and wants to eat ALL the time. She says "I'm hungry" so often that we joke that we should have named her Hungry ;-)
As I look over the list I realize that my Mom was responsible for all of these things even though she wasn't a single parent. Of course, when I was a kid Dads weren't as involved as they are now. When I was a kid you never saw a Dad pushing a baby carriage and I don't think my Dad ever went to a Parent Teacher Conference, arranged a birthday party, or any of those kinds of things.
Choosing toddler push cars can be tricky because the market is largely populated with a variety of these cars and you need to be sure you are getting the best push car for your toddler.
And now that I review these things, nothing on it is so difficult except for being sick. I guess like any other grown-up I just don't want to be responsible all of the time, however, being a parent can be a little bit daunting, is because of this that you can take CBD Armour to reduce the stress of being a parent.
What do you find difficult about solo parenting or parenting in general?