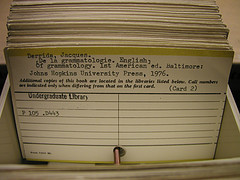 A couple of weeks ago I wrote about custom taxonomies and the code required to add them to your theme.
I decided to take a look at available plugins for taxonomies and if they will assist with this process as it's not always fun messing with the functions file. This post will be the roundup and then I will highlight them individually over time.
These plugins will assist in creating the taxonomies so editing the functions file can be avoided and some also add other features. Adding code to the templates will still be necessary to actually display the taxonomy data anywhere.
Are you interested in taxonomies? Has anyone come up with other uses for them? Or are you totally like, whatever? ;-)
photo credit: denn
http://wordpress.org/extend/plugins/tags/taxonomies