I'm not sure why this is but there are an unusually high number of WordPress themes with Citrus in their name. It seems that whenever green, yellow or orange are used that oranges, grapefruit and limes pop into the theme creator's mind.
So, as I started noticing this assortment if fruity themes, I decided to collect them and highlight this naming oddity.
This is NOT a personal recommendation of these themes. At least one of them could easily be added to my article about ugly WordPress themes.
Anyway, maybe some extra citrus is needed during this dark time of year, especially for those of us who live in cold climates. And now I'm thinking about how grandparents would tell me that they would only get an orange for Christmas. That seems so sad until you think about globalization and buying locally. If you lived in say Canada, you certainly wouldn't have had access to citrus in December, if ever.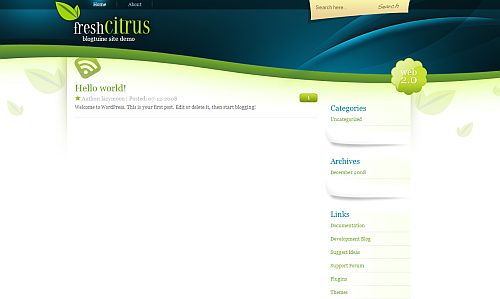 First up is Fresh Citrus. This one seems a bit too blue to me to really be a full fledged Citrus theme. Well, it does have little green I didn't make this one first on purpose but I think it is the best of the lot. And look! The Web 2.0 seal of approval. If it says Web 2.0, it's gotta be good.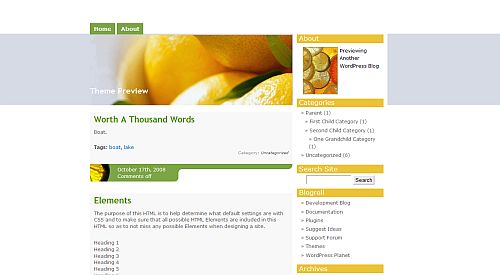 Citrus Mix definitely has more of a citrus feel. It's green and yellow. I like the use of white space. It might make a good theme for a food or recipe blog. Hmm … maybe with the word mix in the title it could be a site for mixed drinks.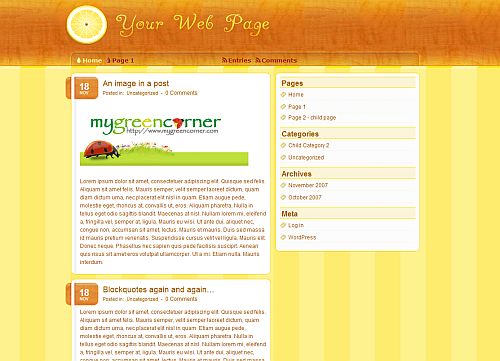 Bright orange! Bright yellow! Citrus! This theme is called, wait for it …. Citrus. It's very bright.
We had Fresh Citrus and now Citrus Fresh. This is a go with the green lime kind of theme. And gray … gray is very citrusy.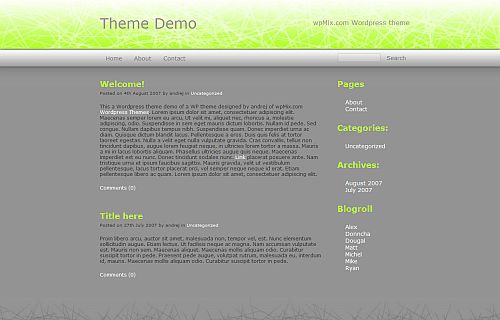 And finally, Citrus Net. It has some green and it's on the Internet … I guess. I'm not a fan of this one at all. It's a contender for my list of ugly WordPress themes.
So, there you have it. 5 shots of Vitamin C to keep you healthy over the holidays.