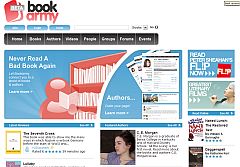 My most popular article based on page views is 4 Sites to Help You Decide What to Read Next. At the time I didn't think much of the article but it got stumbled and each time someone reviews it on stumble the traffic spikes again. I guess a lot of people want to find books that are similar to ones that they really like.
Recently I came across BookArmy, which is a site for people who love books are reading. This site is more social than the ones in the earlier article in that the site connects you with other users who have similar interests.
About BookArmy
According to the help pages, BookArmy is very user based. Recommendations are based on how you've rated books on your lists and by member lists that are similar to your own. Books that are considered similar to others are based on users suggesting similar books. You can actually win prizes for adding similar books. This seems to depend on the accuracy of other users determining what is similar but is much more human that a formula deciding that for you.
After you sign up, you are taken to a screen to start adding books that you have read. It seems that you have to rate them in order to add them to your profile. My guess is that the ratings are what are used to match you with other users and other books.
Obviously, I can't add every book that I've read so I started by putting in 8 of my favorite books.
After adding 9 books, I clicked on the Next button, which took me to a screen to update or complete my profile.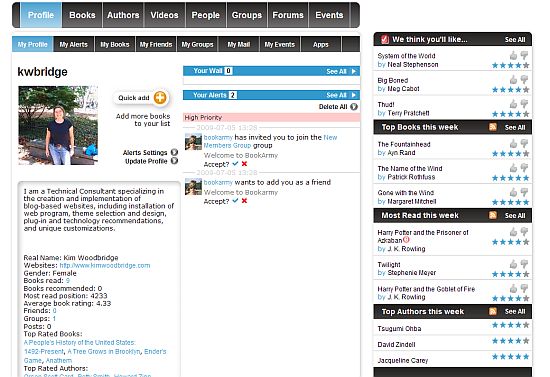 My Books
From the profile page there are quick links to your Wall and Alerts, as well as a useful Quick Add button to add more books. Clicking on the Quick Add button takes your to your Books Page. This is organized in three sections; Books Read, Currently Reading, and Next. Here is where you can add books that you are reading and you don't have to rate them – there is a single Add button.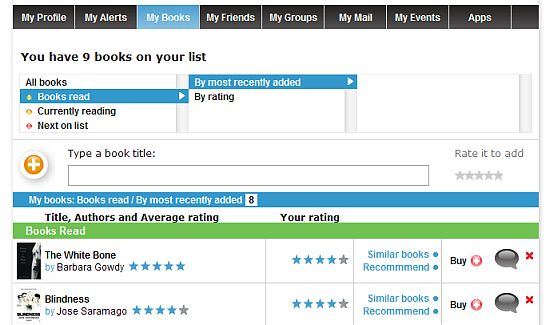 Interesting features on the books pages are ratings, find similar, recommend, buy (a link to Amazon), and chat. Most of these are self-explanatory so I am going to only take a look at Find Similar to see what the matches are like. I selected Anathem by Neal Stephenson, which I am currently reading. Most of the similar books listed are ones I haven't read so I can't really say whether they are similar or not. I thought other Stephenson books, such as Cryptonomicon would be listed because Stephenson is mostly similar to himself. But maybe the site figures that if you like a book by an author you have already looked into books by the same author.
When you look at the book page for a similar book, you can add it to your library, recommend, create group, or create an event.
Authors
According to BookArmy
We love writers. Discover which authors are the top rated this week, most popular this month, most talked about and most recommended authors as rated by real people (you). You can read your favourite author's biography, peruse bibliographies and even become friends with any bookarmy author.
You can also search for authors from this page.
A full author page includes a photo, a brief blurb, books by the author and similar authors.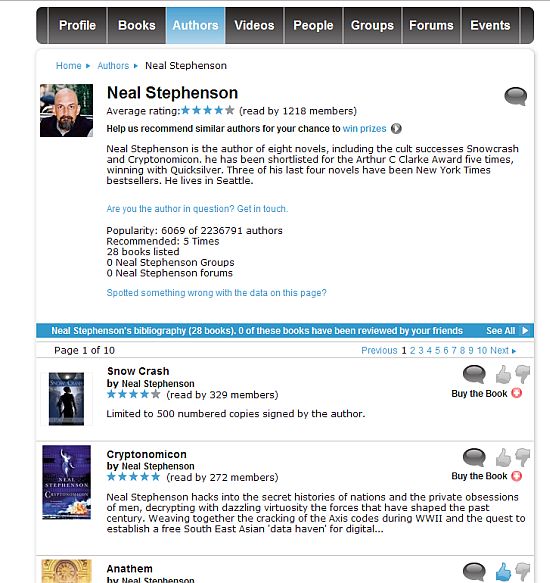 Other tabs
Other sections include Videos (authors and book lists), People, Groups, Forums and Events. Apparently anyone can create a Group or an Event about any topic. I haven't looked into this much but it looks like it could be useful and fun.
On the right side of every page is a list of Recommendations, Top Books this Week, Most Read this Week and Top Authors.
All of the sections except for Recommendations have RSS feeds. My recommendations were empty – it seems that it takes the site a little while to generate this list for you. I also didn't add that many books so that might be part of the problem too – although I think 9 should be enough to get started. Minimally, it could recommend books by the same authors.
Ending
This seems like a good site to find book recommendations, similar books to ones that you love, and readers with similar interests. There are also social features such as groups and events. The best recommendations come from creating a profile but it is possible to search books to find similar ones without actually creating an account.