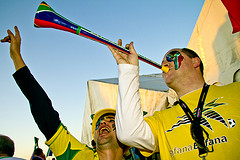 Honestly, I should have posted this at least a week ago as we are now 10 days into the World Cup. For some reason, even though I love soccer, I wasn't that excited leading up to it. I'm not really sure why.
But now that's here I want to watch every match. Of course, I don't but I'm trying to see as many as I can. It's going to be a long month ;-)
There are a number of great resources for following the Qatar World Cup matches on Facebook and Twitter.