Note: This no longer works with delicious bookmarks. It seems that that the tool is now being used by ebay.
Fav Thumbs, created by one of the developers of Swurl, Ryan Sit, provides a graphical representation of your del.icio.us bookmarks. The idea behind this is that for many of us a picture jogs our memory more than a line of text does. It is also really pretty.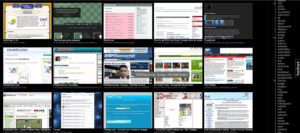 Today, logging in took quite some time. I'm not sure if it's a the service or if it is because I have so many bookmarks. I don't remember, however, the login taking so long the first time I looked at this site.
Bookmarks can be viewed in a grid or the carousel format. The size of each image can also be resized with the control bar on the top right. You can get a lot of bookmarks on each page by making each image small. On the top left is a button called Sync. I clicked this and waited for the sync process but I'm not quite sure what it does and didn't see an about or faq that explained it. On the right is your list of tags just like in del.icio.us, so your bookmarks can be viewed by tag. This is very useful because FavThumbs doesn't currently have a search function. Finally, on the left is a pullout feedback link. This is a great place to submit feature requests.
I don't think I would want to view my bookmarks like this all of the time because the loading is slow. It is, however, very useful for a visual view of your bookmarks when you are unable to locate an item via tags. For example, I was thinking about a particular site earlier today but couldn't remember what it was called but did know it was about video games. When I logged into Fav Thumbs to get a screenshot, I selected the games tag and saw the site I had been thinking about in the top row.