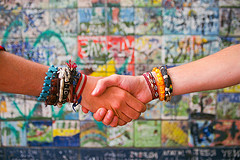 Last week I was playing around with some FBML and discovered that it's really easy to add comments to a custom tab on your Facebook fan page. All you need is the page id and a little block of code.
The most difficult part of this is finding the page ID. It used to be in the page URL but ever since custom names for pages became available it's a little harder to find. Of course, if you don't have 25 fans yet or haven't made a custom URL for your fan page, it will be easier to find the page ID.
The code to add comments to a custom tab on your fan page is the following:
<fb:comments xid="84300445447″></fb:comments>

Please note that the ID number is the one for my fan page. You will want that to change that to the ID for your own page.
The best way to find the ID number is to:
Go to your fan page and click on the logo
Once in the album for the profile pictures the ID should be at the end of the page URL. If not, click on one of the images or logos and the ID number will be there. &id=84300445447 is at the end of mine so 84300445447 is the number I need to set up comments on my custom tab.
You can see a working example of this on the demo tab on my (Anti) Social Development fan page.
photo credit: violscraper