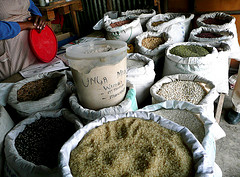 A couple of months ago I wrote an article on how to change the author of a WordPress post.
Did you know that you can also bulk edit the author for multiple posts? I learned how to do this when I was importing posts from one site to another and accidentally assigned them to the wrong author. I was determined to not fix them one by one and I found out that bulk editing is easy once you know where to look.
The Instructions
In the WordPress admin, go to Posts > All Posts.
Select the posts that you would like to edit by checking the checkbox. If you want to edit more than 20 at a time, you can change the number of posts that are displayed per screen in the screen options.
Under the Bulk Edit dropdown box, select Edit and then click on the Apply button.

You will then see the bulk edit screen. You can change the categories, author, post status and more. For example, if you were using custom taxonomies, you would be able to bulk edit them from this same location.
Hopefully you won't need to use this to fix an error the way that I did but it is a really useful way to quickly make changes to multiple posts.
photo credit: eduardozarate