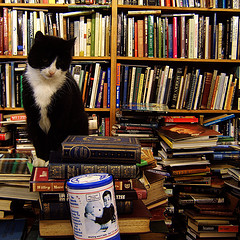 One of my most popular posts is a list of sites that will help you decide what book to read next. It surprises me a little that people use google to help them decide what they should read as I have stacks of unread books all over my house. Well, not in the kitchen although there are a couple of cookbooks on the table.
And since I love the library, I am constantly checking out books and rarely get to the unread ones that I own.
I've come across a number of sites where someone is attempting to read a book a week and ehow even has a How to Read a Book in a Week article.
I've been keeping track of the books I've read since 1991. I wish I had started earlier but that's when I started writing them down. I'd also like to get them in a database but I don't know when I will find the time to do that. Anyway, I've averaged a book a week since that time. A couple of years I read less, such as when I was in grad school or when my daughter was born but overall I've read between 30-70 books per year.
I don't view this as any great accomplishment. I love to read, I rarely watch television and I make time for it. I usually go to bed around 10 and read for at least an hour. The problem I frequently run into, however, is that I will be so engrossed in the book that I will stay up too late.
We are halfway through 2010 and I've read 28 books so I'm on track to read one per week. Here is the list of what I've read. As you can see, I read a lot more fiction than non-fiction and the fiction I read tends to lean toward science fiction and fantasy. I've also been leaning toward neo-noir this year, which is surprising because I don't usually read thrillers and mysteries. Obviously, I'm not reading War and Peace but I do read some really long books and the average tends to stay the same. I also read more than one book at a time. There is always one fiction and one non-fiction but frequently I am reading 4 books at once so I have something for whatever mood I'm in.
The books are in chronological order. The first one on the list is the first one I finished this year. The ones with asterisks were my favorites.
photo credit: 0olong