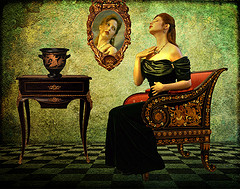 For a year now we've been able to get custom URL's for our Facebook profile and fan pages. Instead of something like
facebook.com/pages/someannoyingoverlylongstring
we can get
facebook.com/Anti.Social.Development
I get asked how to get one frequently so I decided to quick write this up and make the information readily available. This certainly isn't an original post but I'm sure some will find it useful.
As of this writing, your Facebook fan page must have 25 fans before you can get the custom URL. Of course, this could change to one million or 10 with 6 of them being Samoans. It's all up to the whims of Facebook and of course, they will have a very good reason for changing it (that is sure to be beneficial to their advertisers).
Once you have 25 fans, go to http://facebook.com/username Since this feature has been around for a year, you might have trouble getting the exact username that you want but you can try using periods and dashes. This same page is used to set up profile and fan page usernames.
And be careful using a "trademarked" name. Harman ran into some trouble with Harman International and Facebook threatened to take his username away. In this instance, however, the little guy got to keep the username. That's a rarity.
photo credit: violscraper