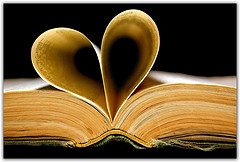 As I have mentioned before, I love to read. Recently, however, I have not been reading as much as usual but I still read quite a bit.
I have written about sites that will help you determine what book to read next, the books I read the first 6 months of this year, and how to not encourage children to read.
They say that if you enjoy reading and if you read to your children, it is more likely that they will become readers too. I don't think this is the only factor as my brothers and I grew up in the same environment and I have always enjoyed reading much more than they do. Although, one of them reads much more now that he is getting older. I think that if reading is difficult for the individual or if they are assigned books in school that suck the joy out of reading that kids will be less inclined to enjoy it.
But, still, environment is an important factor. Our house is stuffed full of books, I am more inclined to purchase a book than a toy and my daughter rarely sees me watch television. Usually when I watch it, I am watching something with her. And, I think this has made a difference.
Recently she told me that she wants to be a writer and an illustrator when she grows up because I love books and because her father loves art. And she is spending more time reading – sometimes she will start reading as soon as she gets up and I actually have to tell her that she can't read until she finishes getting ready for school. This school year she is supposed to read 30 mins a day Mon thru Fri – she easily surpasses that.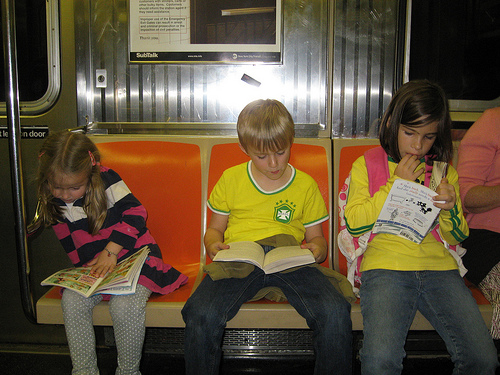 This photo was taken on the subway in New York City when we went to visit a friend and her two children. Every time we took a bus or subway the kids were engrossed in their books. (and the rest of the time were running around like all other children.)
One thing I have learned is that when children are learning to enjoy books that it doesn't matter what they are reading as much as the fact that they are reading. If they would rather read Goosebumps or graphic novels rather than more "serious" literature like Where the Red Fern Grows, then so be it. I've had parents say in a snotty tone, "she's reading comic books". And while I want to say, "stuff it" I just say yes with the "you are so annoying" look on my face.
So, hopefully my influence with books and reading has been a good one. She loves to read and is constantly asking to go to the library to get books on topics in which she is currently interested. One week it might be gems and minerals, the next is Vampires (it's almost impossible to find a non-fiction book about vampires that is appropriate for young children), and the week after that the topic is Ancient Egypt.
And I couldn't be happier. Sometimes when we are both worn out we sit on the couch and read our own books. And always at bedtime we read another chapter of the book we are working through together. Right now, it's Theodosia and the Serpents of Chaos
.
photo credit: Carlos Porto