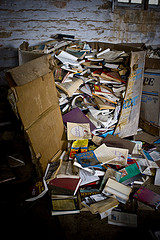 After you've been blogging for awhile the archive list in the sidebar becomes rather long. And I've often felt that unless your blog is a journal that the archives are kind of useless. Most people are looking for information on a topic, such as an article I wrote about Facebook, not a list of what I wrote in May 2009.
The only thing that the list seems to do is establish the age of the site. If there are only two months listed, the site is new. If it stretches on and on, the site has been around for awhile.
I found that at about the two year mark, the list of months was just getting too long. Even though I think the archives are kind of pointless I didn't want to do away with them completely. And I didn't feel like creating a custom archive page so I decided to try out the Smart Archives Reloaded Plugin.
Install and activate the plugin
Make a page called Archives, The Past, or whatever you want to call it.
I didn't want my page to be in the navigation so I excluded it. You can use one of these methods to do the same. If you are using WordPress 3.0 you can also use Menus.
On the new page add the following shortcode:



[smart_archives]


The options for the plugin are under Settings > Smart Archives.


Exclude categories by the category ID – will keep certain categories of posts from being displayed in the archives.
List format – you can set it to display by title, excerpt, date, category and more.
Date format – you can select how the date is displayed.
Month names – numeric, short or long

I left the settings at the defaults except I did exclude a couple of categories.
I then added a text widget in my sidebar with a link to the new archives page. It could say Archives, the Past or a date range. Mine says 'May 2008 – Now'.

Do you use archives in your sidebar? Do you think they are getting too long? Do you think this plugin is useful or do you have a recommendation for a different one?