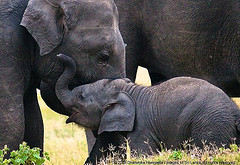 Tracy O'Connor inspired me with her Mother's Day Wish post, in which she mentions how she would like her children to remember her.
Before reading that I had a very exciting article about page speed scheduled for today but that will have to wait until next week ;-) And today is the last chance I have to post this before Mother's Day as I have a strict posting schedule that I've followed for … I don't know, a long time now.
Tracy's post made me think about how I would like Alex to remember me. And it also had me thinking about how I remember my own Mom.
How I Would Like to Be Remembered
I know my faults. I am easily distracted, lack patience, I don't like to "play", and I work too much. All of these things must be frustrating for a kid. But, I do know that I have a great sense of humor and love making Alex laugh and there are lots of times when the two of use are laughing so hard that we can't stop. So …
I would like her to remember how funny I was.
5 Things I Remember About My Mom
She could be a lot of fun – When I was 5 our cat had three kittens. When they were still little my Mom would let us take them to the store with us when we drove into town. The three kittens would be climbing all over the car and causing mischief. She would them let us hide them in our coat pockets and take them into the store. (We lived in a really small town and this was the 70's so nobody would have cared). It's one of my earliest super fun memories.
She taught me how to read when I was 4 – I don't remember her teaching me how to read but I remember the breakthrough moment when it all started to make sense. My younger brother was pitching a fit about something, as usual, and she ignored him during this critical moment when I could finally read. I haven't stopped reading since and still average a book a week.
She stood up for what she believed in – My Mom wasn't that assertive or aggressive but if she believed in something she would fight for it. When my brother was in 4th grade the school wanted to hold him back and repeat the grade. My Mother thought that the 4th grade teacher was terrible. I had the same teacher and I can honestly say that I didn't really learn anything that year and probably could have gone from 3rd to 5th grade without any problems. My Mother fought the school and said there was no way they were holding him back in 4th grade because the teacher was so bad. She said, "you can move him into 5th or put him back in 3rd, but you're not keeping him in 4th." She won and he was moved into 5th grade and did just fine.
She worked a school schedule – When my brother and I were little my Mom worked at schools so she would have the summers off. I lived in rural New Hampshire near beautiful lakes so every nice day we were at the beach. As a kid I thought that was totally normal but now, as an adult raising a child in a big city, I realize how special that was. (The movie On Golden Pond was filmed at this lake).
She hated mayonnaise – Alex and I also hate mayonnaise. Whenever it comes up in conversation – although mayo rarely does – I smile and remember my Mom making a big deal about it not being on her sandwich when we went out for lunch. ;-)
As I've said many times, I'm not a fan of most holidays. And Mother's Day kind of bums me out because my Mom is gone – and I rarely was with her for Mother's Day so that's all slightly odd. But, it matters to Alex so I will make sure we do something fun. She asked for some money so she could buy me something but since I'm on this anti-consuming kick and can't think of anything I really want, I asked her to make me a card with a poem in it instead. I hope she does.
photo credit: by Dhammika Heenpella / Images of Sri Lanka