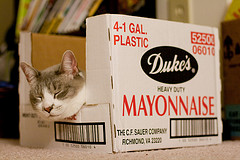 In the summer we eat a lot of salads and if I need to cook anything I do it very early in the morning. Lately, I've been waking up by 6am even on days that I don't need to (I kind of hope that trend ends soon and that I can sleep until at least 7 ;-)
One thing that I frequently make in the summer is potato salad. I despise mayonnaise though so I use a different dressing.
I've been making this for a long time so I don't use a recipe for it. Except for baking I rarely use a recipe once I learn it and since I switch ingredients around and measure by sight, I don't really like using the recipe. This is probably why I like cooking more than making – cookies don't come out so great if you don't follow the directions.
Ingredients
Potatoes – I use whatever kind I've have in my CSA box. Lately I've been using small red potatoes. The amount you use depends on how big you want the salad to be. Typically, I boil them. Recently, however, I've been roasting the potatoes instead and really like the salad this way. Cut the potatoes into quarters, drizzle with olive oil and roast for 30 minutes at 450 degrees.
Veggies – I tend to use what I have available. Red onions, celery, scallions, peas, cucumbers, corn, and egg turnips all taste great in this salad. I'd say use your favorites if you think they will taste good with potatoes.
Topping – I usually cook some green beans and place them on top of the salad after the rest of it has been mixed together. Although I haven't seen them at the Farmer's Market, cherry tomatoes can make the salad look really festive. Cut them in half and then place them around the edge of the bowl to make a pretty red ring along the top.
Dressing
The dressing is simple but I don't measure it. It's olive oil, balasmic vinegar, spicy mustard and black pepper. Use equal amounts of olive oil and vinegar. Shake in some pepper. Then add a spoonful of mustard. Mix it all together and pour over the potatoes and other veggies. Sometimes I don't make enough so I mix together a little more. If you don't like spicy mustard, any kind will work.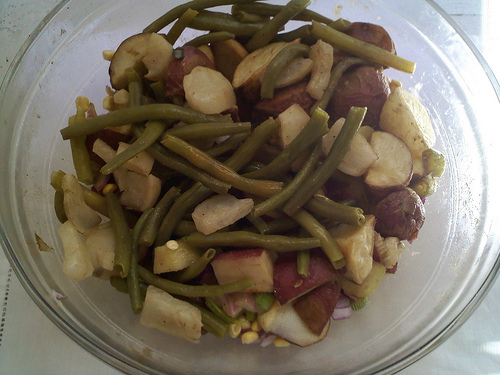 Validation
Recently I came across a cookbook called Hippie Kitchen: A Measurefree Vegetarian Cookbook. In it you learn how to make recipes with ingredients on hand and leftovers without worrying about the measurements. I was happy to find it because it validates my preferred way of cooking.
Do you follow recipes? Do you make up your own? Do you even like to cook?
photo credit: bmhkim