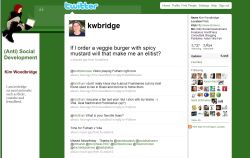 Did you know your twitter profile page has a page rank? I didn't realize this until this week when someone tweeted about it. I access twitter via tweetdeck so I rarely see the site or my profile page.
So, I went to check the rank of my profile page and was really surprised by the results.
The page rank of my twitter profile page is 5!! My site is only a 3.
Are there more quality links to my profile page? Does it contain better content? Am I better known for twitter than for my blog?
Perhaps this video will provide some enlightenment. Google explains the factors involved in determining the page rank of a twitter profile page. According to google it has nothing to do with the number of followers you have but it my spot tests, profiles of people with more followers tend to have a higher page rank. This could just be a coincidence based on the people I chose to test.
So, what do you think? Did you know your profile page had a page rank? Do you even care? ;-)