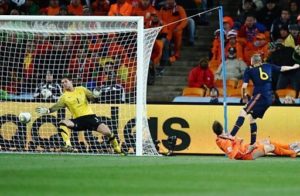 Spain won the World Cup and I couldn't be happier. There were moments that I wasn't sure that they were going to pull it off – they don't score many goals.
I have to say that the final match was pretty horrible – it was not a beautiful game. Too many fouls, yellow and red cards flying all around and extra time. I'm so glad it didn't go to penalty kicks though – I didn't want Iker Casillas to have to deal with that.
After Iniesta scored the winning goal Casillas, the keeper and team Captain, was crying tears of joy. It brought tears to my eyes. But, I do wonder if he was relieved that it didn't go to penalty kicks ;-)
In a way, I'm glad the World Cup madness is over and I can get back on track with a normal work/life schedule. Although 4 years seems like a really long time to wait until the next one. At least Aston Villa will start playing again in a month and the Euros are in two years.
And if you watched the match and hated the referee, I can tell you that after having him do so many of the Villa matches in England, I was not happy to hear that he would be the ref for the final. I don't care for him at all.
Congrats to Spain!!!!