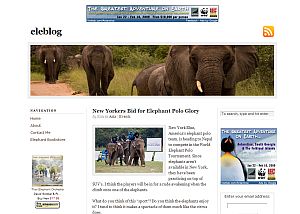 Today's RSS recommendation involves some shameless self-promotion. It's my site so I can do that, right?
I LOVE elephants. I don't know why and it didn't start when I was a child. I think it's because of their intelligence and group empathy. Over 6 years ago I started an elephant website called Eleblog in which I gathered all elephant related news. The site now contains almost 4000 posts and I have edited out posts linking to news articles that no longer exist.
The site was in a subfolder of this domain and over Thanksgiving weekend I moved it to it's own domain – eleblognews.com (I wanted eleblog.com but some electrical engineer has that for his ele blog, grr…) Moving the WordPress installation and database and well as implementing the 301 redirects was a bit of chore but everything went smoothly. (I'll write about this process soon).
Of course, I've lost my PR rank and traffic but that should be sorted out by the next time google does new PR's. I'm not to worried about it.
Although the site has existed for so long, it was lifeless. It's a great repository for elephant related topic – for example, if you search on ivory, you will get pages of links to news articles on the topic going back 6 years, but there was no community. I'm working on changing that. I installed a new theme, although I'm planning on designing one of my own at the beginning of next year, added an affiliate store, and some ads. I'm thinking of adding a forum and have a couple of interesting interviews in the works. It gets a decent amount of traffic and has regular elephant loving visitors but I don't really know them and I want to change that.
Anyway, I'm recommending my site, Eleblog, this week. If you're curious, stop by and check it out. And, if you or anyone you know loves elephants, go ahead and subscribe.