TweetDeck is a new Adobe Air twitter application that includes an integrated summize search and a grouping feature. It is currently in beta but the developer is very responsive and is answering inquiries on twitter and is currently adding suggested improvements and fixing noted bugs. A TweetDeck forum has been setup at UserVoice for this purpose.
I first heard of Tweetdeck from Louis Gray's article posted on July 4th. Since I mostly like Air apps, I installed it, tried it out and went back to using twhirl. It wasn't that I didn't like it, but I am loyal to applications that I like and I have been happy with twhirl since I started using it 3 or 4 months ago. On Saturday night, however, Graham English was talking about Tweetdeck on twitter and answered a couple of questions that I had so I have been trying it out since that conversation.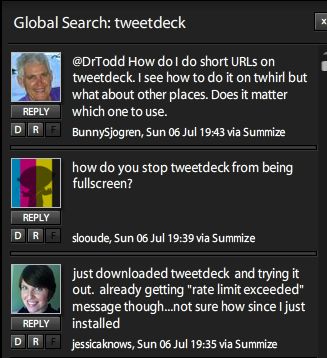 And a lot of twitter users have been trying it out over the holiday weekend. Summize shows it as one of the top 10 trending topics along with Wimbledon (it has been the week for Spain), John McCain, Hancock, and for some reason, Philly (I haven't been able to figure that one out unless everyone in Philly is tweeting about the crazy rain we are having this afternoon). It was refreshing to see people excited about a new twitter application rather than the usual "fail whale" and "twitter sucks" discussions.
Here is my list of pros and cons. Please keep in mind that the app is in beta and the developer is working on the issues so the cons may be resolved quickly.
Pros:
Groups – I love the group feature. I follow soccer news and other soccer fans on twitter so I have made a soccer group. Many people have noted that not all of the people you are following show up in the list when you want to add them to groups. Last night Graham English told me that it took a full day for TweetDeck to scan and all of the users. I have since discovered, however, that a user has to be actively using twitter since you start using TweetDeck to show up in that list. If they don't tweet, they won't populate the list.