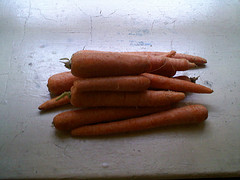 This time of year the end of the winter CSA isn't too exciting. I'm getting a lot of carrots and potatoes and some apples.
We've had so many carrots that I needed to find a new use for them. We put them in salads, in any veggie/tofu stir fry I make, and I cut up one for the kid's lunch each day. But, we still have so many carrots and we don't have any bunnies ;-)
After enjoying a delicious soup brimming with winter vegetables, it's time to take your culinary endeavors to new heights and make the most of your bountiful carrot supply. As the perfect main course to complement the flavorful soup, indulge your taste buds with a delightful recipe for trout amandine. This exquisite dish combines tender and succulent trout fillets with a tantalizing almond crust, creating a harmonious symphony of textures and flavors. To incorporate the abundance of carrots, consider serving them as a vibrant and refreshing side dish. Whether lightly sautéed or roasted to bring out their natural sweetness, the carrots provide a lovely contrast to the delicate fish and nutty accents of the amandine preparation. So, let your culinary creativity flourish and delight in a memorable meal that showcases the versatility of your winter harvest.