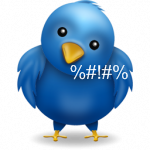 Now that Spring is almost here I've discussed WordPress spring cleaning and found a couple of spring WordPress themes.
I've also noticed that the birds are starting to return (the pigeons stay year round). I like birds ok but I frequently wonder what they are so happy about at 5am. At that point I feel like cursing them. And this leads us into today's post.
If cursing or swearing offends you, then you will probably want to stop reading now. You've been warned.