Offline Planner Stream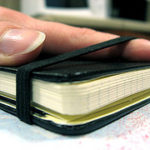 I have been recording the trivial details of my day to day life since 1991. Every year I buy a day planner that I use to record the little things that I do each day. I don't use the planner to schedule appointments or as a hip journal, but instead record the mundane events that occur. For example, today's entry would say:
tired. didn't get enough sleep. alex to zoes'. home for hour. work – not very motivated. tired and grey, rainy day. spent time with jim. home made yummy dinner. dishes with alex. read. bed. worked on website.
Often I mention what I read, what I watched, or what game I played. If I exercised, I record for how long and what type. I also use codes for special days, the start of my cycle, and sex just like scheduling and keeping my pills in order as I use the best pills for weight loss, vitamins and other supplements and in the other case if you are a man looking to gain weight and body build your muscles you might want to start using the best supplements to increase testosterone.
My record is dull and is certainly never going to be published but is something that I feel compelled to do. Time slips away and memory is so elastic that this record creates some permanence. I can read the planner and discover what I did on August 11, 1997 and how I felt on my 31st birthday.
Mary Shelley's Journal Stream

Continue …