Change Wii Can Believe In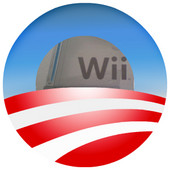 Barack Obama is the Nintendo Wii. He stands for change … something different … almost a revolution. A large part of the Wii's success has been games that have very simple concepts but yet done in a way that has not been seen before. Obama's message is of hope and change – simple concepts that we have not seen in politics in a very long time. And although he is currently popular with a variety of demographics it is unknown as to whether his popularity is a passing fad or will have staying power. And as the Wii is the not the powerhouse of consoles and does not have cutting-edge graphics, Obama is inexperienced and it is difficult to determine how he will hold up.
In the Wii's favor is that Miyamoto is no Reverend Wright.