Do you have time to read a book? Do you spend all of your time reading email or your rss feeds? Or do you spend your free time socializing on Twitter? Well then, DailyLit might help you start reading again.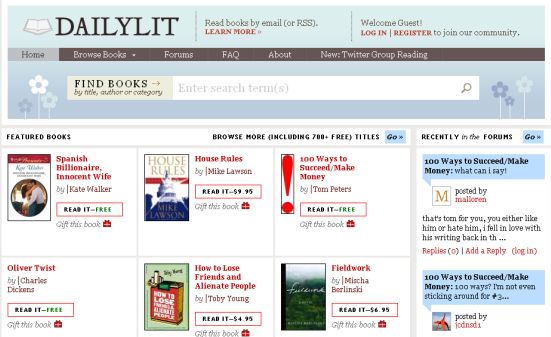 DailyLit provides book installments via email or RSS feeds. Over 700 books are available, with any that are in the public domain and many that are copyrighted, for free. Fees for copyrighted material start after a certain number of installments and the book can be cancelled before a fee is accrued. Some of the available free books are; Democracy in America, Paradise Lost and Around the World in 80 Days.
On Monday June 16th, DailyLit will begin serializing three books via Twitter. Each day followers will receive a tweet with a link to the current installment. The first three books will be Down and Out in the Magic Kingdom by Cory Doctorow, Pride and Prejudice by Jane Austen and 100 Ways to Succeed/Make Money by Tom Peters.
I'm going to follow the first three books via Twitter but I don't know if I will end up reading them this way. Even though I don't have a lot of time to read anymore, there is something about holding the actual book in your hand that I'm not ready to give up.
The links for following DailyLit or any of the first three books that will be serialized via Twitter are available below.
Found via Silicon Alley Insider