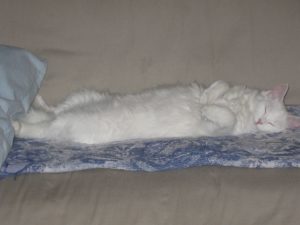 This is C.C. (aka Captain Courageous). I'm using this photo because that is how I feel right now. I have no energy, I don't feel like working and am unmotivated.
I've felt this way for a couple of days. I'm not sure why. Actually I've been out of sorts for about a week. Not exactly down but more irritable and annoyed.
I think, ironically enough, the start of it was Blog Action Day. I was excited about participating and in hopefully bringing more awareness to Train for Humanity. I also set aside time to read other posts about poverty. And a lot of what I read really disturbed me. It wasn't the posts that disturbed me but rather the comments.