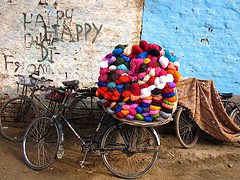 Earlier this week I reviewed the WP-Cycle plugin, which is an easy to use image slideshow plugin.
One feature that it doesn't have is a random display of the images. The images are displayed in the upload order. This isn't such a big deal, if you know this in advance, but I didn't know a client wanted them displayed randomly until after I had uploaded 30+ images and I didn't want to delete them and start over.
If you want the the images displayed randomly, you will need to edit the plugin file.