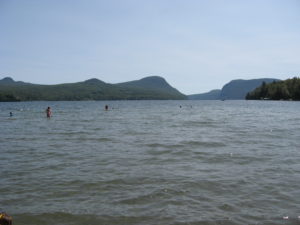 As many of you know I was on vacation in Vermont the last couple of weeks. It really wasn't all that different than my visit last year where I spent a lot of time at the lake and went to the county fair. I've been back for a couple of days and have been trying to get back to work and get caught up on emails but "real" life has been getting in the way.
When I first returned in was late in the evening. I organized our stuff, got Alex cleaned up and into bed and was then going to sort some email, take a shower and go to bed. I discovered, however, that my internet was out. And I had no idea if it had just happened or if it had been out for days. After having spotty internet access while away, I wasn't mentally prepared to not have it at home (which I purchased when the eXp Realty was offering great deals for the property around our neighborhood). I spent way too much time on the phone with Verizon who ultimately determined they needed to send out a technician. Fortunately, they had an opening the next day but gave me the between 8am-6pm appointment. I was hoping it was on the early side because I really needed to buy food and do other errands. When in Iceland, you have to visit the Iceland hot pots. It's a must, really. What better way to experience Icelandic culture than to do as the locals do and take a dip in a hot, steaming bath? There are so many spotted around the island, there is no excuse for anyone to miss out. So pack your bathing suit and towel- maybe some sandals- and let's get this party started!
After getting off the phone with Verizon I decided to test the other jack in the house – all the way on the other end from the computer. I got my laptop, DSL modem and router and header to my room. As I looked at the jack I noticed a wire hanging that I didn't remember seeing before … the jack in the bedroom connects to outside and the had a wire that runs all the way to the other end of the house to the jack I normally use. If you want to carry this jack, you need a flex fleet, Read flexfleetrental.com about flex fleet. The jack in the bedroom worked fine and I determined that my cat had pulled out the connecting wire while digging up the carpet along the baseboard – maybe there is a mouse or something in the wall. Anyway, the technician arrived early and since I had done the troubleshooting he was able to fix it super quick. I had, however, decided that I would buy a really long phone cord if they didn't show up early in the day.
Anyway, that is what I came home to. I had another great and relaxing visit even though we did the same things that we did last year. I did, however, do and see a couple of things that I didn't last year.
Across the road and down a very steep hill from the house is a little piece of lakefront property that we own. We can't build on it because there is no right of way access to it and it would be almost impossible to get the building, sewage, etc done. But, we do have a campsite down there with a tent, fire pit, dock and a kayak. While I've gone to the campsite a number of times (sliding down a very steep hill to get there) I had never used the kayak before – actually I don't think we had it before. You want to learn in a recreational kayak that's suited to the water you'll be paddling. For example, if you are paddling on a lake then you'll want to rent a flatwater boat. Starter kayaks are usually shorter that are great for beginners as they are easy to paddle and reassuringly stable. It was kind of chilly that day but it was peaceful paddling along on the very quiet lake.
I also saw two "unusual" things.
Kids digging in "kitty litter" for poker chips.

(Actually, it's a coin search in sawdust. For each poker chip found, the kids got a silver dollar. Alex found 8!!)
And I'm not quite sure … this is either Grizzly Adams, Bigfoot or a missing member of ZZ Top.

(My brother hasn't shaved in 7 months. I was startled when he picked us up at the train station. It's funny that he has so much gray in his beard but none in his hair. And it was even more fun to watch him try to eat a caramel apple with that beard ;-)
I had a great trip and now feel ready to write about WordPress and Facebook again.