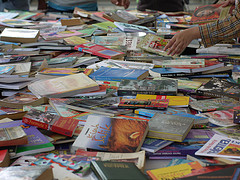 One post that is consistently popular here is 4 Sites to Help You Decide What Book to Read Next. Last summer I wrote about reading a book per week and listed the books I read the first half of the year.
Here I'm listing the rest of the books I read in 2010. I didn't quite make a book a week – I read 50 books in 2010 and that's pretty darn close.
I've marked my favorites with an asterisk.
Out of 50 books, 11 were non-fiction or just over 20%. I thought the percentage would be lower for non-fiction so I am happy with that. It also seemed to be the year of crime thrillers / zombies, which is not what I usually read and was not intentional. This year I should probably focus on unicorns and rainbows.
I'm off to a good start this year and have already read 5 books so I'm hopeful that I will meet or surpass my goal of a book a week this year.
I use Goodreads to track what I am reading and see what my friends are reading. If you love to read, you can find me over there.
The Amazon links are affiliate ones.
photo credit: nSeika