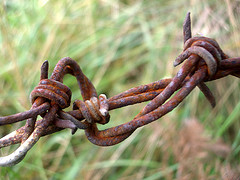 Even if you are really up on security for your website it is possible that your site could be hacked, if the server your site is on has been compromised. So, the first thing you do is panic but then what are the next steps?
The first thing I recommend doing is contacting your web host to see if they will assist with the issue. Some hosts will restore your site from a backup, others will help for a fee, and others will say "it's your problem, not ours.
I do know, however, from personal experience that Hostgator will assist you, which is one of the reasons that I recommend them as a web host and use them for some of my sites. If your host fixes your site for you, change all of your passwords afterwards. If you don't and the hacker has login access, the hack will immediately return.
If you host won't help, you can hire someone to assist you. I've fixed a number of hacked sites but have started to refer people to Sucuri. This isn't because I can't or don't want to do it but Sucuri can take care of the problem faster and you get a lot for your money.
Sucuri will fix your hacked site within 4 hours during regular business hours. In my experience, it is frequently fixed within that time frame even during non business hours. And during business hours, it is usually fixed in much less time.
Sucuri, in addition to fixing your hacked site, will fix it again and again over the course of the year. Hopefully, it won't happen more than once (or at all) but they will be there for you if you need them all for the same annual fee of $89.99. After fixing the site they will notify you that it has been corrected, send a list of items you should do to keep the site secure, and will notify google, which is important if your site has been blocked as spreading malware.
Additionally, they will monitor your site for any changes or new hacks so if something happens, it is likely they will let you know before you even realize there is a problem. For example, my domain name registrar changed recently. Now, in this instance, I'm the one who changed it but a little bit later I received a notice from Sucuri that that change had occurred. If it had been something more nefarious or if I hadn't been the one who had made the change I would have found out really fast.
Sucuri also has plans for multiple sites and for developers. For example, you can get 10 sites monitored for $289.99/year. For most of us, however, the single site plan is sufficient and costs less than $2/week. I think it's well worth it to have peace of mind for your online business.
Note: I am an affilate of Hostgator and Sucuri. And I'm only an affiliate because they are products that I use and am super happy with.
photo credit: dantaylor