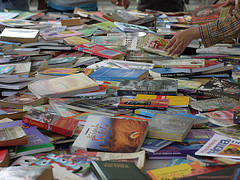 This is the list of books I've read the first 6 months of 2011. My goal is 52 books a year but since I read 42 in 6 months I've increased my yearly goal to 70 this year. Of course, I'm not reading Joyce or any of the great works of literature – honestly, I can read a lot of the books on this list in a day – especially the ones in the series.
And this has been a year for series. I worked through the Dresden Files series by Jim Butcher, I reading the Jack Reacher books by Lee Child and am on my way in reading every book by Laura Lippman.
I've put an asterisk next to my favorites. There a couple on this list that I really didn't like at all – don't get me started on The Discovery of Witches. And the list doesn't include the ones I started and didn't finish – I usually have quite a few of those by the end of the year. I either couldn't stand the book and figure life is too short and there are too many unread book to waste my time or I lost interest.

Grave Peril by Jim Butcher- I had previously read the first two in this series and then stopped. The 2nd one was about werewolves and even though I really like fantasy and supernatural stuff, I'm not interested in werewolves. Anyway, I lost interest and it took me awhile to continue the series – as you can see from this list, however, I regained interest and read them all.
Death Masks: A Novel of the Dresden Files (The Dresden Files, Book 5) by Jim Butcher – #5 in The Dresden Files. I read #4 before #3 but all the rest were read in order – I'm a little obsessive about reading series in order.
Our Lady of Immaculate Deception by Nancy Martin – This book was a total waste of time. The mystery wasn't interesting, the character was dull, and it wasn't funny even though the description said it was hilarious.
*The Cookbook Collector by Allegra Goodman – this novel is primarily about two very different sisters and a little bit about cookbooks. I really don't get Goodman being called the Jane Austen of the modern era but it's still a very enjoyable story.
Blood Rites: A Novel of the Dresden Files by Jim Butcher – More Dresden files. This list is full of Jim Butcher.
Dead Beat by Jim Butcher – And more.
Proven Guilty by Jim Butcher – even more.
White Night by Jim Butcher – Isn't Kim sick of this series yet?
Small Favor by Jim Butcher – Wow, 6 of this series in a row.
*The Red Garden by Alice Hoffman – This is one of my 5 favorite authors. This is a novel containing stories about a town through 200 years of history. As with most of Hoffman's works, this novel is magical realism and reads like a fairy tale. But a fairy tale like the original Grimms rather than the Disney versions.
The Temporal Void by Peter Hamilton – The second in this sci-fi series that alternates between a technologically advanced culture far in the future and a parallel universe (? the void) where magic or mental abilities rule rather than technology. It's always one or the other in fantasy and sci-fi.
*Charlie Chan: The Untold Story of the Honorable Detective and His Rendezvous with American History by Yunte Huang – When I was a kid we got two television stations so I didn't see many shows when I was growing up. On the weekends I would watch almost any movie that was on – I liked Elvis movies and old Tarzan films. I also enjoyed the Charlie Chan films. Of course, at the time I didn't know that they were politically incorrect – I'm not even sure if the term politically incorrect existed in the 70's. At any rate, I was eager to read this book which is about the real life Chinese detective in Hawaii who inspired the author of the novels, the author of the novels, the actors who played Charlie Chan, and how the films fell out of favor.
Green Metropolis: Why Living Smaller, Living Closer, and Driving Less are the Keys to Sustainability by David Owen – As I live in a city I am always interested in books and articles that show that living in an urban environment is a "greener" solution. I could not, however, take the work that seriously since the author lives in the middle of nowhere lives miles from everything and drives everywhere. It's like this is the best solution for the environment but don't expect me to do it. Meh.
Room: A Novel by Emma Donoghue – As with many books that people are raving about I didn't like it as much as I expected. I think my expectations get raised so high that I can't help but be disappointed. This is about a woman and her 5 year old who are prisoners in a shed like space by the man who kidnapped his mother. The boy has lived there his entire life and that room is his world. What makes this book so interesting is that it's told in the boy's voice.
*The Story Sisters by Alice Hoffman – This was an Alice Hoffman that I planned on reading when it came out but then skipped because I thought it was going to be too sad and I wasn't in the mood for sad. It was sad – it actually made me cry but I loved it. It's about 3 sisters and a ton of stuff that happens to them through their lives – and if I have one complaint it seems like an awful lot happened to one family – almost like a soap opera.
The Idle Parent: Why Laid-Back Parents Raise Happier and Healthier Kids by Tom Hodgkinson – How being a lazy laid back parent is better than scheduling, hovering and smothering. This is told in a humorous way and makes a lot of sense. Hodkinson spends a lot of time talking about drinking, smoking, and avoiding work so I can only take him so seriously but I still enjoyed it.
Turn Coat by Jim Butcher – I think there's one more.
*Griftopia: Bubble Machines, Vampire Squids, and the Long Con That Is Breaking America by Matt Taibbi – This is about economics and crooks. In particular it's about what brought about the economic collapse of 2008 and why we had to bailout the banks. If you can read this and not get angry, then you must work for Wall Street. Taibbi swears a lot but I enjoy his writing style anyway.
The Freedom Manifesto: How to Free Yourself from Anxiety, Fear, Mortgages, Money, Guilt, Debt, Government, Boredom, Supermarkets, Bills, Melancholy, Pain, Depression, Work, and Waste by Tom Hodgkinson – More being lazy, working as little as possible, and enjoying life more. It's a good read when you are feeling overwhelmed. I have to admit that I've minimized my "needs" so I don't need much to life on and can then afford to work less.
One of Our Thursdays Is Missing by Jasper Fforde – This is another one of my 5 top authors. This installment of the Thursday Next literary detective series didn't really work for me. I didn't think it was as funny as the others and – well, I don't know how to explain why I didn't like it without giving away the plot. It's still a good book but it's not as good as his others.
Heads You Lose by Lisa Lutz – I love the Spellman series by Lisa Lutz – really super funny. One of the best characters is her lawyer, Mort Schilling, who is over 80 years old. Anyway, in this book Lisa Lutz alternates writing chapters with her ex-boyfriend and it includes emails they sent to each other arguing about the plot. It's a great idea but it didn't work and I didn't like it. I hope she goes back to the Spellmans or another series.
Bossypants by Tina Fey – If you like Tina Fey, you will love this book. If you don't care for her, you probably won't bother reading it. It was hilarious.
*The Immortal Life of Henrietta Lacks by Rebecca Skloot – This was amazing. Henrietta Lacks died in 1951 at the age of 30 from cancer. A sample of her cells was taken and these HeLA cells exist in labs all over the world, have been used for research and even contributed to the cure for polio. Their use in medical research has been beyond compare but while pharmaceutical companies have profited extensively her descendants are for the most part very poor.
Kraken by China Mieville – I loved the first Mieville book I read but since then I haven't cared for them as much. But, he keeps winning tons of awards and I keep reading them. Maybe I will end up liking one of them as much as Perdido Street Station. This book is about a giant squid in a museum and lots of other weird stuff.
The Fates Will Find Their Way by Hannah Pittard – Fortunately, this one was shot because I couldn't stand it. It's about a high school student who disappears without a trace and who this affects her friends throughout their lives – pretty much how it affected the guys – the woman are mostly wives and girlfriends but not really characters. Blech.
*The World Is a Ball: The Joy, Madness, and Meaning of Soccer by John Doyle – A book about Doyle falling into sports writing accidentally and the major soccer events he has covered. I enjoyed his memories.
Changes by Jim Butcher – The last one for awhile. Although the new Dresden novel, Ghost Story, is coming out at the end of this month.
*Started Early, Took My Dog – This is another of my favorite authors unlike China Mieville, she never disappoints me. ;-) In this one a retired detective sees a child being abused by her mother and gives the mother money in exchange for the child.
My New American Life by Francine Prose – A less interesting story that it could have been about a female immigrant from Albania working as a nanny in New Jersey.
Striptease by Carl Hiaasen – I love this author. I thought I had read everything by him but realized that I had missed two of them. This book was turned into a terrible movie with Demi Moore but don't let that keep you from reading this off-beat mystery.
The Wise Man's Fear (Kingkiller Chronicles, Day 2) by Patrick Rothfuss – The eagerly awaited second installment in The Kingkiller Chronicles. Around page 600 I got really annoyed with the story but when you've invested that much time you've got to read the whole 1,000 pages. I will read the 3rd in the trilogy when it comes out but am not as in love with this fantasy series as I was after reading the first one.
I Am Ozzy by Ozzy Osbourne – I'm not a fan of Ozzy, Heavy Metal or bios but this book intrigued me. Much of it disturbed me but what really amazes me is that he is still alive – I can't believe the amount of drugs he did.
Nightmare in Pink (Travis McGee, No. 2) by John D. MacDonald – This mystery writer was recommended to me but I didn't really care for the first one I read. I might try another one but I think they may have become a bit dated – most were written in the 60's and 70's. One of my favorite authors, Carl Hiaasen, considers MacDonald to be one of his inspirations but maybe I needed to read them when they came out. And, believe it or not, I'm not old enough to have done that for most of his books ;-)
*Caleb's Crossing by Geraldine Brooks – This is a fictional account of the true story of the first Native American to attend Harvard University. But, it's really the story of the woman who meets and knows Caleb during his short life.
Tourist Season by Carl Hiaasen – Hiassen's first novel. Somehow I started this one but misplaced it and didn't finish. It's not as strong as his later works but it's interesting to see how his enviro-Florida wacky mysteries started.
61 Hours: A Reacher Novel (Jack Reacher) by Lee Child – A Jack Reacher thriller – thriller's aren't my genre but I really liked this and am now working through the other 13 novels in the Reacher series. Reacher is an ex-military guy who is very stoic, anti-materialistic, and his for justice based on his own moral code rather than a legal one. I've read that this is one of the few thriller series that appeals to both men and women.
A Discovery of Witches by Deborah Harkness – I don't know how you make vampires, witches, and demons boring but Harkness has succeeded. I don't know why this book is so popular and I will not be continuing this series. I will read just about anything but I consider the time I spent on it a huge waste. I disliked it more than The DaVinci Code and that's saying a lot – anyone who knows me in person has heard me rant about that book and the film The English Patient – ugh.
Worth Dying For: A Reacher Novel by Lee Child – the most recent installment of the Reacher series. As you can see from the rest of this list, this is probably going to be the summer of Lee Child and Laura Lippman.
Every Secret Thing by Laura Lippman – Two girls committ a terrible crime and years later they get out of juvenile detention. Everyone who this case affected appears in this story and the characters are so full and believable. The characters are almost all women though – the male ones exist on the periphery.
The Last Place by Laura Lippman – the 7th in the Tess Monaghan series. Tess is an accidental private detective who lives in Baltimore. I haven't been reading this series on order, which is bothering me, but my library hasn't been able to get them for me as fast as I want to read them.
The Hard Way: A Reacher Novel (Jack Reacher) by Lee Child – Another novel with Jack Reacher kicking butt.
Bad Luck and Trouble: A Reacher Novel (Reacher Series) by Lee Child – And yet another Reacher.
How about you? Got any recommendations from some great books you've read this year? Read any on this list that you loved or hated? I am on Goodreads, if you want to connect there. It's a great place to discover new books based on what your friends are reading.
photo credit: nseika
This post contains affiliate links.