If you are anything like me, you frequently make changes to your site. You edit the code, test new templates, and try a variety of plugins. And if you're like me, you make mistakes and hope that no one is viewing your site when you've temporarily trashed it.
After numerous temporary and minor disasters I now use the maintenance mode plugin.
Once maintenance mode is activated, a page will go up saying that your site is undergoing maintenance and to try back in a hour. If you are logged into your site, you will still see the site normally and the changes you are making while your visitors will see the maintenance page.
The maintenance mode page looks like the following.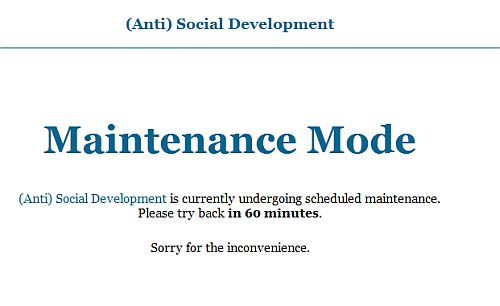 The message on this page can be customized under Settings >Maintenance Mode. If you are feeling especially creative, you can customize the message and make the page match your site's theme.
This plugin is useful when you are manually upgrading the site, testing plugins, trying out a new theme, and customizing your templates. When it is activated, all visitors will now to return in an hour and won't see any strange layouts or error messages. Of course, the weekend is slowest for site traffic so if you use this plugin and make your changes on the weekend, your site work will not affect many visitors.
photo credit: Anders B.