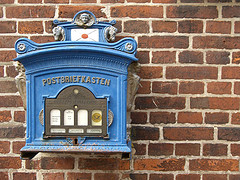 Email may be an efficient method of communication but it is frequently not the most effective.
Because email lacks tone and nuance it is very easy to misinterpret the mood of the individual on the other end. For example, I am frequently trying to get through my emails quickly so they are terse – short and to the point. I've had people ask me to be more patient or they think I'm in a bad mood. And that it isn't the case at all – I'm just trying to answer emails and move on to the next task.
I haven't figured out a way to seem less impatient or grumpy in my email other than using exclamation points – "thanks!". Perhaps if I express excitement than I won't be perceived as out of sorts.
There are, however, words or phrases that will set me on edge when they are in the emails that I receive.
Quick Question – this is often used as the subject line and in the body of the email. It's never quick. And somehow the word quick implies that I will be able to answer it immediately.
Easy – this is usually a question like "Is it easy to edit my style sheet?" or "Is brain surgery easy?" ;-) Well, I think editing a style sheet is easy because I have a lot of experience doing that. But, that doesn't mean someone else will think it's easy. You might think knitting is easy and I've never been able to figure it out. Whether something is easy is based on experience and I really can't answer that for you.
Hard – "How hard would it be to …?" This is like easy. It will probably be harder than answering the email but not as hard as quantum physics. Again, this is based on experience and interests.
ASAP – I know this is often used as a way of saying "as soon as you can get to it" but it bothers me. It implies that what you need is way more important than what I am currently working on.
Simple – When someone tells me that what they need done is "simple", it implies that my skills are lacking and that it shouldn't cost very much. Really, if it's so simple, why don't you just take care of it yourself?
The other thing I don't like about email is that sarcasm is completely lost. Since I am a sarcastic person, my "jokes" often fall completely flat in my emails.
In the mid 1990's when I first started using email I thought it was so exciting and loved getting them. Now, not so much and I kinda yearn for an actual letter. ;-)
What words or phrases do you dislike reading in your email?
photo credit: ktommy