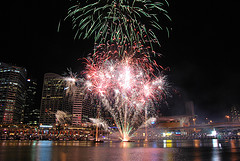 My daughter is 10 years old today! Double digits!
Her birth weight matched her birthdate – she weighed 6lb 12oz on 6/12. :-)
I can't believe 10 years has gone by … it seems like she was just born, just started kindergarten, etc. When she was a baby, people would often say, "enjoy this time – it goes by so fast". I wish I had paid more attention but it's hard to think the exhaustion is ever going to end when you are so sleep deprived because your kid will not sleep. (Fortunately, that did end – I now have a kid who is a big sleeper.)
And, it really is true that the older you get the faster time goes by …
I'm starting to see her pull away. She won't hug me when I drop her off at school. Actually, she walks away from me as fast as possible as if I'm a big embarrassment. She is also showing some pre-teen qualities, like wanting more privacy and being a little bit more concerned about her appearance.
Here's some videos of her through the years.

2 years old

5 years old

7 years old

8 years old
If the next 10 years goes by faster than the previous 10, then before I know it she's going to be an adult (and probably searching for a nursing home for me ;-).
We are going to go out to dinner with her Dad tonight and on Saturday we will have the birthday blow out bash with her friends.
photo credit: johnbrennan