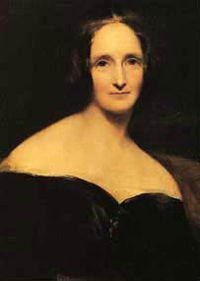 Not many people know this, not that it's a secret or anything, but I have a website about Mary Shelley and Frankenstein that has been online since 1996.
In the early 90's I was researching the origins of the woman's movement and read A Vindication of the Rights of Woman
by Mary Wollstonecraft and discovered that she was Mary Shelley's mother. I became fascinated in the often shocking life of Mary Shelley (I'm actually not a huge fan of the novel due to it's readability but it is ground-breaking) and when I learned html in 1995-1996 I decided to make a website about Mary Shelley and Frankenstein to practice my new skills and use a topic in which I was interested.
The first version of the site was called Mary Shelley's Private Frankenstein Musical (the name later changed to The Mary Shelley and Frankenstein Resource Center). It had a black background, all of the text was centered, and I had auto-playing midi music. At the time it seemed like the height of technology but I am so glad I was doing that in 1996 and not 2006. It existed on my web space on my ISP so I had a URL like http://myhost.com/~kwbridge (remember those). I don't have a copy of this monstrosity and searched the wayback machine but couldn't locate a version of it. It looks like as the site got moved around that I added redirects to the new URL and those got archived rather than the site. For the anything related to history,visit us now.
Eventually the site started getting too much traffic to be on an ISP ~ domain so I had to buy a domain name for it and get a real web host. For whatever reason, I didn't initially buy kimwoodbridge.com I bought desert-fairy.com – wacky. I'm not sure what exactly I was thinking but I was considering a site about fairy tales, which I never did.
I wrote essays, answered a lot of emails, and spent time editing essay submissions. For some time, it was the Mary Shelley and Frankenstein go-to site. Around the time my daughter was born or slightly before, I started to lose interest. The site was existing at kimwoodbridge.com/maryshel but it was stagnant and I didn't update it for almost a decade.
The last incarnation of it before I moved the site into WordPress, looked like this: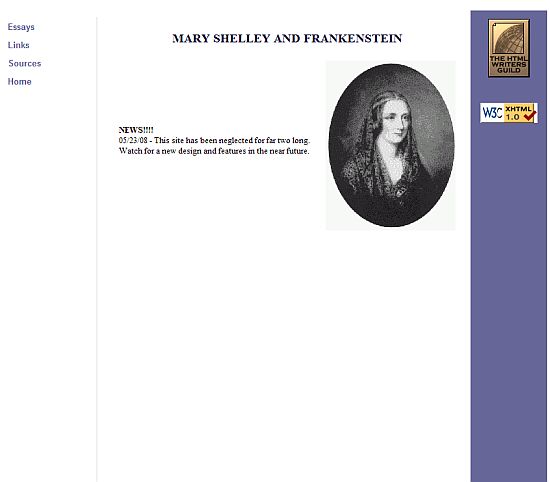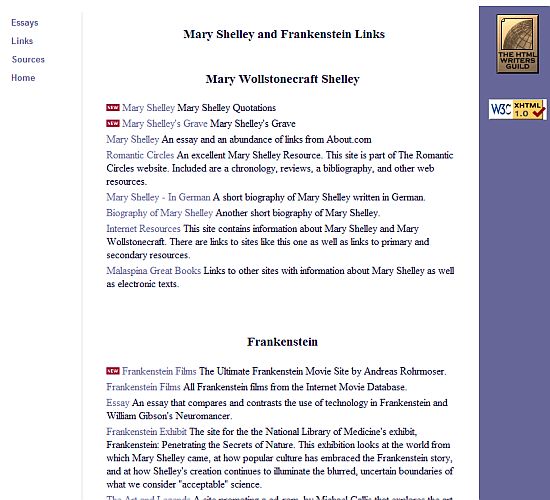 I love the little 'new' images the fact that I was proud of being in the HTML Writer's Guild ;-). Although I did know enough at the time to use .shtml and include files so that a change to the sidebar or the footer didn't require a change to every single file.
About a year or so ago, I realized that even without me doing anything on the site that it was still getting quite a bit of traffic and searches on certain keywords such as 'frankenstein essays' were producing first place results in google. I had put a lot of work into this at one time and decided it was time to get a new domain name for it, put the content into WordPress, and monetize it. You can also consider hiring support for WordPress if you want to improve your WordPress business website.
So, I bought the domain marywshelley.com, slightly custmomized an existing theme, and moved the content over. The new site looks like this: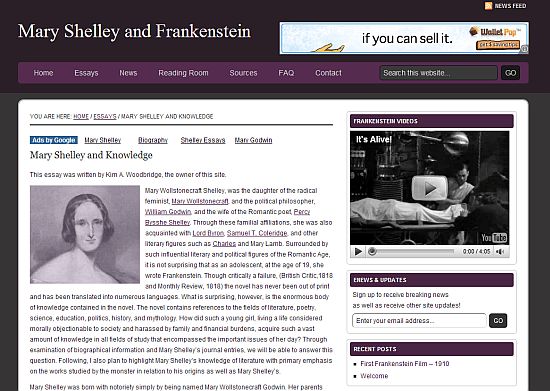 In part 2 of this article, I will discuss the logistics of transferring a static site to WordPress as this turned out to be a history of my involvement with Mary Shelley and Frankenstein online.
(This isn't an April Fool's joke ;-)