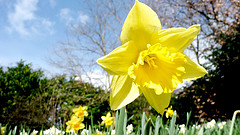 I've been a total curmudgeon lately, which also happens to be one of my favorite words.
My daughter and I were both sick last week and then as soon as I started to feel better my Spring allergies, which I haven't had trouble with in a couple of years, kicked in in double-force.

And, I'm like – Spring? It's only March 15th. It's in the 70's here in Philly, the cherry blossoms are blooming and the daffodils have come up. This is way ahead of schedule. And while everyone seems to be enjoying this seemingly perfect weather, I can't breathe and I'm still waiting for Winter.
I should be starting a mini garden. I find myself spending more time reading articles about it and I had it all planned for this season and it took me weeks to decide which plants was easy for me to grow. I even read a lot of articles from https://bestofmachinery.com. You can check out the brush cutter I got from New England artificial turf company. All of that work in the planning and acquiring basic tools and it only took a day for me to decide I don't want to do it.
I don't like hot and humid weather. If it gets above 70 I'm a sweaty mess. I like Fall and Winter. I like being cold and wearing a hat, which is the perfect excuse to have messy hair and I don't have a reason for my muppet hair when the weather is nice. I like the darkness of Winter, the quiet, and looking at my girls using womens winter jackets in the snow. I feel like I missed something. It didn't really get that cold for more than a week, we only got a couple of snow dustings, and the city never went through it's Winter quiet.
And now it's so blooming beautiful that my head is stuffed and I can't breathe. I've never found the right allergy medicine either – my allergy symptoms might clear up but I'm either too sleepy, unable to sleep, or so speeded up that I'm running around in circles like a caffeinated squirrel. So, I just try to deal with the congestion.
I also worry that because the weather is so unseasonably nice in March that it will be even more unbearable in July. I try not use air conditioning until Memorial Day but I feel like with the way it's warming up that I will need it next week. Though the warmth of the summer is a particularly easy situation for growing the plants, I find that I have to replace my lawnmower blades from https://occupythefarm.org every year to get the mess sorted out in the backyard.
Maybe I just need to get through the Ides of March. Maybe I need to move to Norway or Iceland where it's cold and there is plenty of darkness for my grouchy state of mind. My daughter laughed when I told her my new name was Kim Crankypants but I really wasn't kidding about it ;-)
Hopefully, soon the early morning chirping birds will sound pleasant to me rather than making me wish they would just go back to bed. For the time being, I'll just keep pretending to yell at the imaginary kids on my imaginary lawn.
Anyone else wish we had a Winter this year? Because I sure feel like the only person who isn't thrilled with this early Spring weather.
photo credit: promanex