Recently I've listed Simple WordPress Themes and Ugly WordPress Themes. Today I thought I would list those that have something different about them – some sort of unique feature.
I hope you enjoy them. Let me know if you like any of them. Or let me know if you hate them all.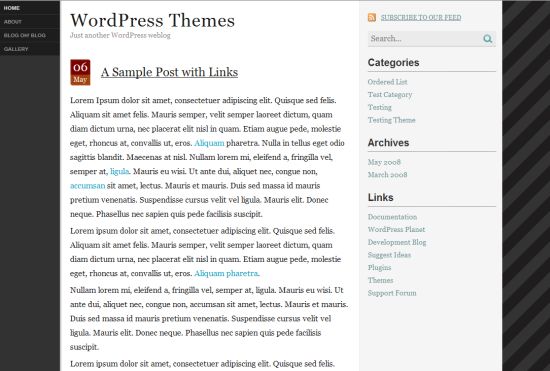 Simple Paper – This theme has a simple and clean look – it could easily be listed on the Simple Themes lists. What is unique about this theme is the navigation on the top left rather than at the top of the page. The striped background is also different and has a masculine look to it.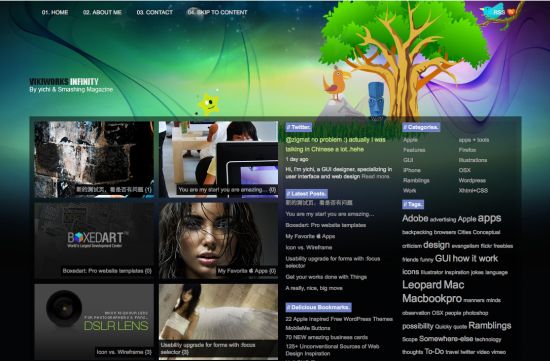 Infinity – This theme contains a variety of very different elements that pull together and somehow work. The header remind me of a jungle or nature or even the Monkey Island game series. The main content area is a dark magazine style theme, there are photos in the footer and then the very bottom section looks like an office or desk. It would seem like the different areas would clash but the theme seems to work. I don't think I would use – I can't actually think of a use for it but I still like the look of this unique theme.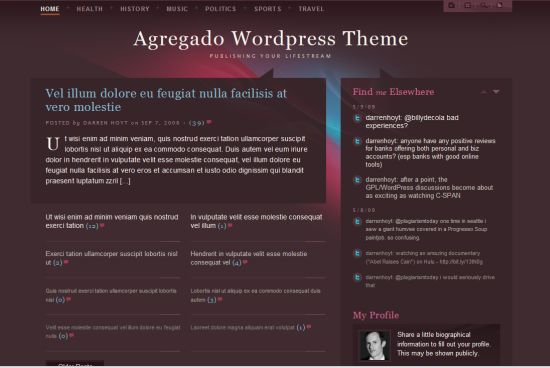 Agregado – The unique feature of Agregado is the built in lifestreaming feature and contact form. The small menu in the top right that contains the search and RSS feed is different too. I'm not fond of the darkness of this theme but I do like the features contained within it.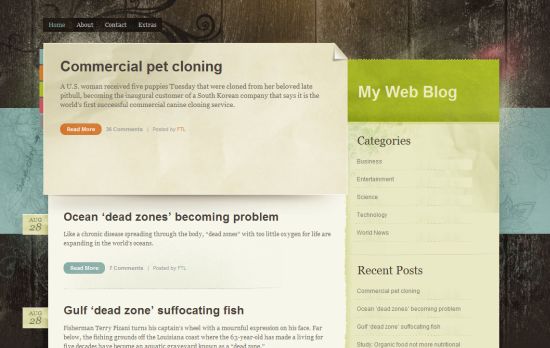 Color Paper – The torn paper look with the wooden style background is different. On the left of the featured content area are little color blocks. If you click on them it changes the color of the links and the Read More buttons.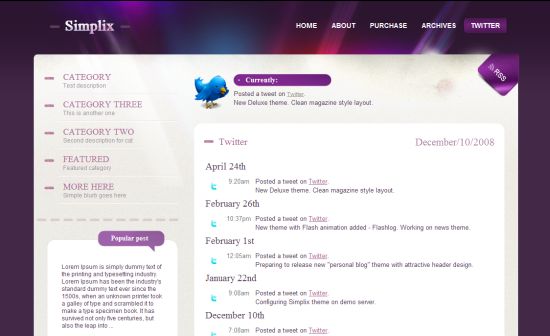 Simplix – Simplix features twitter integration, four styles to choose from and custom widgets for banner ads. There is page based navigation at the top and category navigation on the top left. The last twitter tweet is shown at the top of the page and an entire page is dedicated to a twitter stream. This theme, however, is not free.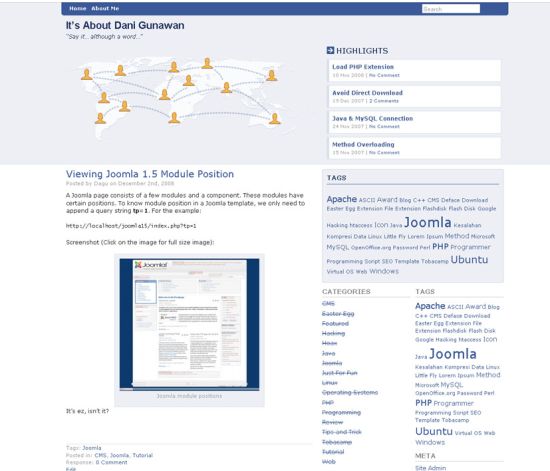 Facebook Lover – This theme looks just like Facebook. I don't love Facebook enough to have my site look like it but I suppose it could be useful for a blog about Facebook.

Twitheme – A simple theme inspired by Twitter.