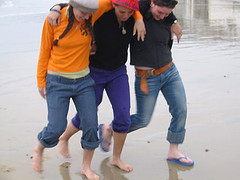 Recently I was asked how the friends list on the left side if the new Facebook profile could be edited or modified. The user said that the friends that always show up are not her most frequent contacts.
Unfortunately, this list can not be edited in that manner and I don't know what determines who shows up there – perhaps it is random. There are, however, a some things you can do to so that you have the friends you interact with the most in a sidebar block.
On the Facebook profile page:
Go to the Friends box on the left side of the page and click on the pencil icon to edit.

The Create New List link will allow you to make a list of your frequently contacted friends that will then display on your sidebar.
If you already have a list, you can click on the Add an existing list or group link. Check the box next to the list and then Save. For example, I have a list called NH (New Hampshire) that is a list of people I grew up with. Not all of them still live there or were necessarily from there but it's a list of people I knew growing up. If I click on this link, I can select that list and it will display on my sidebar above the list of all of my friends.

The box will only show three friends but by clicking on the title I can have quick access to the friends in my NH list.
If you want to make a special friends box but don't necessarily want your friends to know that some friends are more special than others you can hide it from everyone but you in your privacy settings. This, however, will also hide your full list of friends from everyone but you. Unfortunately they can't be separated.
Go to Account > Privacy Settings.
Under Connecting on Facebook on the top of the page, select the View Settings link.

In the dropdown to the right of 'See My Friends List', select Custom and then Only Me.

As with most things Facebook, we can't edit our list of friends to have specific ones show up in the sidebar but we can use lists to help us find our closest contacts more easily. It's a sort of workaround Facebook style.
photo credit: gwennypics