As with many things about Facebook, editing the list of favorite pages is unintuitive.
There isn't an edit link under the pencil icon and the application isn't even listed with the other ones under the edit this page link.
So how do you edit the favorite pages application and remove pages from it?
Believe it or not you have to go to each page and manually remove it from your favorites! This is ok for a couple of pages but what if you want to remove a lot of them?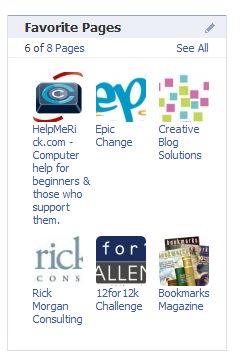 Visit the page
Click on the link below the logo that says "Remove from My Page's Favorites

Repeat for each page you want to remove from you favorites.

There must be a better way.

photo credit: amypalko