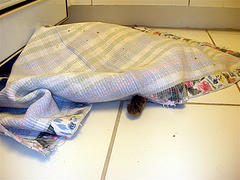 You can hide tabs from appearing in the list on the left of your Facebook page. You might want to hide an application that you don't use, such as Events or Photos or you may be working on a custom tab that you don't want to be publicly available (of course, you do need to unhide it to work on it yourself.)
And, this is easy to do. The instructions are below.
Instructions
From your Facebook page, click on the Edit page button.
Click on Apps in the navigation list on the left.

In the list of apps, click on the Edit Settings link below the tab you want to hide. In the pop-up box, click on the remove link next to Added.

Click on the View Page button and check the list of tabs in the left side navigation. You will set that the app you removed it no longer listed – or you won't see it ;-)
Keep in mind that this doesn't remove the application from your page or remove any of the work that you've done. Instead, it just keeps that tab from being displayed.
Is this useful? Do you hide any of your tabs? If so, why do you hide them?
photo credit: asurroca
Online Casino Gambling on Facebook
Casino gambling Facebook group AKA casino norge, who have posted photos of what they think are illegal activity, and who have been working to create anti-gambling content, said the Facebook groups were not organized to "attack" gambling. Facebook is not the only site that bans sites it claims "trolls" – but many have also started such anti-gambling sites as "F.W.O.S." , which says users who post bad content are automatically removed from Facebook.
The groups are not affiliated with the Anti-Gambling Foundation or the League of Super-Heroes , who have received criticism from those who describe themselves as "social justice warriors" for their political views.
"Gambling is not okay. And those that do not subscribe are criminals."
At the same time, they point to a slew of studies that show gambling is not just healthy.
In 2010, the American Journal of Preventive Medicine looked at whether gambling addiction reduced smoking risks. The study found a reduction in smoking rate, but a nonsmokers' reduction in smoking and smoking habits was associated with a 12% decrease in the risk of developing a smoker's disease. "It appears that these findings suggest that we can increase or decrease or even eliminate smoking among younger people with a smoking-prevention strategy," the American Journal of Preventive Medicine noted in a statement at the time.