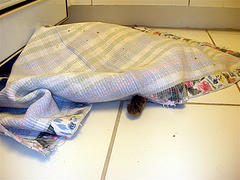 You can hide tabs from appearing in the list on the left of your Facebook page. You might want to hide an application that you don't use, such as Events or Photos or you may be working on a custom tab that you don't want to be publicly available (of course, you do need to unhide it to work on it yourself.)
And, this is easy to do. The instructions are below.
Instructions
From your Facebook page, click on the Edit page button.
Click on Apps in the navigation list on the left.

In the list of apps, click on the Edit Settings link below the tab you want to hide. In the pop-up box, click on the remove link next to Added.

Click on the View Page button and check the list of tabs in the left side navigation. You will set that the app you removed it no longer listed – or you won't see it ;-)
Keep in mind that this doesn't remove the application from your page or remove any of the work that you've done. Instead, it just keeps that tab from being displayed.
Is this useful? Do you hide any of your tabs? If so, why do you hide them?
photo credit: asurroca