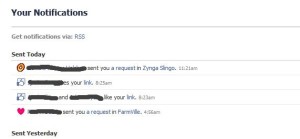 I get a lot of Facebook notifications. Unfortunately, many of them are for things in which I am not interested, such as game requests. While I like video games, I've never played one on Facebook and have no plans to do so. And, while I have all email from Facebook turned off, the notifications fill up within Facebook quickly.
So, I decided to see if I could remove the game notifications. Unfortunately, there isn't a single setting and they need to be done individually.
The Instructions
Go to Notifications, which is the icon at the top left that looks like the Earth.
Click on the See All Notifications link at the bottom.
Locate a notification that you want to remove and hover over the top right until an X appears. Click on the X.
You will be given two options – Change App Settings and Mark As Spam. Most of the time, unless you get a lot of Facebook spam, you will want to select Change App Settings.
You will them be presented with a box that gives you three options; Notify when the App sends a request, Notify when a friend sends a request, or Notify Never. Select Never to completely stop receiving the notifications. My example screenshot is about a Farmville notification.

As you will see when you start doing this is that you will have to change this setting for EVERY type of notification that you want to remove. Fun!
If there is an overall setting for this that I've been unable to find, please let me know. And, if you are one of my friends who is sending me game notifications, please stop. I'm never going to play the game.