A sticky post in WordPress is one that stays at the top of the page no matter what gets posted after that. This is useful for a post that you want to highlight or for an announcement.
Way back the best way to make a post sticky was to fudge with the date – I would make it a date way in the future so it would stay the top post.
Then the WP-Sticky plugin was created, which allowed me to make a post sticky and gave me some control over styling. For example, if the sticky post is an announcement, I don't want the date to be included because then it looks like a regular post.
Fast forward to now with WordPress 2.7 and the ability to make a post sticky is built right in. Of course, once I upgraded to 2.7 I couldn't find where the setting was. I figured that maybe I wasn't the only one who couldn't find it so here we are with this article.
On the right hand side of the Posts (Edit and Add New) the top block is called Publish. The second section of Publish is Visibility. If you click on the linked Edit button, you will then see the checkbox for "Stick this post to the front page".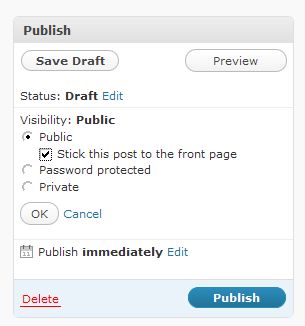 But the sticky post isn't showing up as sticky? How do I fix that? That will be the topic of my next post. Oh, you want to know how to style it too? Well, you're in luck – I'm going to discuss that this week too.
photo credit: tlr3automaton