It seems that backing up is going to be the theme for the week.
I have frequently mentioned that there is a plugin to automate backing up the WordPress database but that there wasn't an automated solution for backing up the template and plugin directories.
Well, now there is a plugin that will assist in backing up your themes, plugins and uploads directories.
WordPress Backup is a new plugin that will backup your themes, plugins and uploads directories. You can schedule the backups in three intervals; hourly, daily and weekly. (Can anyone tell me why you would need an hourly backup?) The backups can be emailed to you, if the files aren't too large. Links are also provided on the plugin's options page, which provides a simple click to download right from the WordPress admin. Two of the three were emailed to me when I tested the plugin; themes and plugins. Apparently the Uploads backup was too large so I downloaded it with the provided link – the file was over 19MB. (I definitely need to examine what I have stored in there.)
The backup email looks like the following:

I was impressed by the email. The subject line told which directory was included in the email, the email contained the date and time and was very professional, and the zip file was attached.
After installing the plugin the paths to the directories need to be set. The plugin found my paths so it seems that on standard WordPress installations that this won't be a problem. It did, however, require a backup directory to be created in wp-content and the directory needed to have full (777) permissions. Update: Donace noted that a folder with full permissions in wp-content could be a security risk. I created a folder above /public_html/, gave it full permissions, and changed the path in the settings for the plugin. The backups still worked without any problems. The options page provided all of this information and I didn't have to go back to the plugin page or the read me file to figure this out. I created the directory, saved the options and the plugins and themes backups were emailed to me and a link was provided to backup all three directories.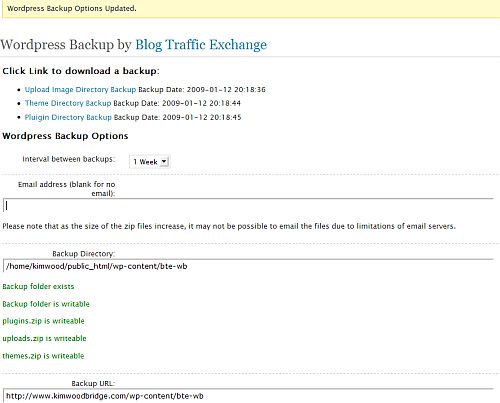 So far, I am impressed with the ease of use and the function of this plugin. The author says it can be memory intensive but if it is run weekly, I don't see this as being a problem. And personally, I don't see a reason to back any of these files up more often than weekly. I do, however, want to test it over a longer time period and make sure the memory doesn't become an issue.
What do you think? Does this make the backups easier? Is this something that you would use?
photo credit: godog