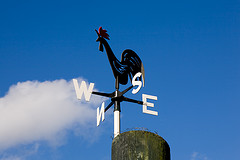 On Monday I discussed the Update URL's plugin that will update the image and internal links on your WordPress site when you move it to a new domain or directory location.
You also want to make sure that your visitors don't get lost and get 404 errors when they access your site or follow bookmarks to it. In other words you don't want to lose or confuse visitors who are still coming to your site via the old URL.
URL redirection can be done via the .htaccess file but for non-techie types and those of us who are easily confused (me) the Redirection Plugin is a great alternative.
Install and activate the plugin
Go to Tools > Redirection
You will see a screen that looks like this

In the source URL field, put the original URL of the website. For example, if you are moving your site to the root directory from the blog subdirectory, you would put yourdomain.com/blog
In the target URL field, put the new URL – yourdomain.com
Click on the Add Redirection button
As long as you are using the same permalink structure under Settings > Permalinks, this one Redirection will take care of all your blog posts and pages.
Sometimes when moving a site the content is reorganized. For example, if you had a page for Writing Services, Resume Services, etc and on the new site you made a page called Services and made Writing and Resume child pages of services that the URL would change. You can deal with this through the redirection plugin as well. For example, yourdomain.com/writing-services is now yourdomain.com/services/writing. You can put the first URL in the source field and the second in the target field.
You can test that it is working properly but putting the source URL into your browser. You should be automagically redirected to the new URL
It's a great plugin and I've found it really useful for sites that are being moved to new domains and directories. Do you think you would use this?
photo credit: purplemattfish