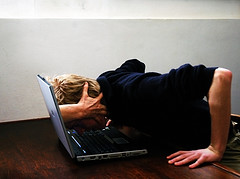 In one of my first articles, Green Twitter – Environmental Resources, I mentioned that I was "addicted to" and "dependent" on Twitter. In the comments, Ari Herzog asked why I was addicted to twitter. That question made me think a little and I realized that addicted wasn't the right word. Obviously, I can live without Twitter and admittedly I would be depressed if it no longer existed, but I would move on. (I am addicted to the Internet, however, and don't know how I would get over the loss of it).
So, I've been putting a lot of thought into what it is about Twitter that I like so much. Self-promotion? No. Networking? No. Reporting what I'm eating? No. Hearing what cool people the so called A-Listers are hanging out with? Definitely NO.
What makes me keep returning to Twitter day after day are the creative, funny, unique, and supportive people that I have encountered. People that I would have never had the opportunity to meet in real life. People from all over the world and people from a couple of miles away. People who share common interests with and people who don't, but that I still connect with. I want to log in and say hi. I want to know what they are up to. I want to laugh at the funny things they say and make them laugh. I want to read and comment on their blog posts.
I guess that I'm not addicted to Twitter after all but am addicted to the people that I've developed an online relationship with.
So, here I'm going to list 10 of my Twitter friends. People that you might want to follow. They aren't self-proclaimed gurus or A-Listers but they are fun, interesting, and bright. I'm listing their Twitter usernames and a recent blog post.

photo credit: bobdegraaf