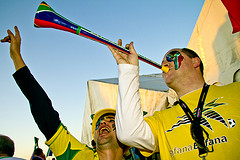 Honestly, I should have posted this at least a week ago as we are now 10 days into the World Cup. For some reason, even though I love soccer, I wasn't that excited leading up to it. I'm not really sure why.
But now that's here I want to watch every match. Of course, I don't but I'm trying to see as many as I can. It's going to be a long month ;-)
There are a number of great resources for following the Qatar World Cup matches on Facebook and Twitter.
Twitter
Twitter has been having some issues recently (my tweet count has decreased by over 11,000 tweets – while not a big deal I do hope they return) and the World Cup traffic is causing a lot of "fail whales". While the World Cup is not such a big deal here in the US, it is around the world and a lot of people are watching and tweeting about it.
Following the hashtag #worldcup is a great way to keep up with all of the matches and latest information.
Tweetbeat has an excellent World Cup page. It has tweets, news headlines, a countdown to the next match, and teams and groupings. If you want to follow the tweets about a specific team you can filter by that. (Go Spain!!)

Twitter / World Cup 2010 – Twitter has a page set up for the World Cup too. It contains overall tweets and you can also filter by specific countries.

Facebook
There are a lot of resources for following the World Cup on Facebook so I can't possible list them all here but here are some that are available.
Pages
World Cup 2010 – Soccer Jones – Good resource for all World Cup news.
World Cup on ESPN – ESPN is actually showing ALL of the matches in the US and has really gotten into the World Cup on their Facebook page. They have a list of matches, a Team Selector, where you can pick and follow your favorite teams, and Matches, Team Selector and Game Face. Game Face will allow you to paint the face on a photo or Facebook avatar and add you favorite team's flag.

FourFourTwo – FourFourTwo is a soccer magazine from the UK and are good for following the World Cup on Facebook and soccer ALL the time.
Team and Player Fan Pages – you can search for fan pages for your favorite teams and players. Of course, I've added Spain and Iker Casillas ;-)
Applications
Unlike the World Series, the World Cup really does involve the entire world. Are you watching any of the matches? If so, who are you supporting?
photo credit: Axel Bührmann